Clinton's tax returns show income hit, dubious donations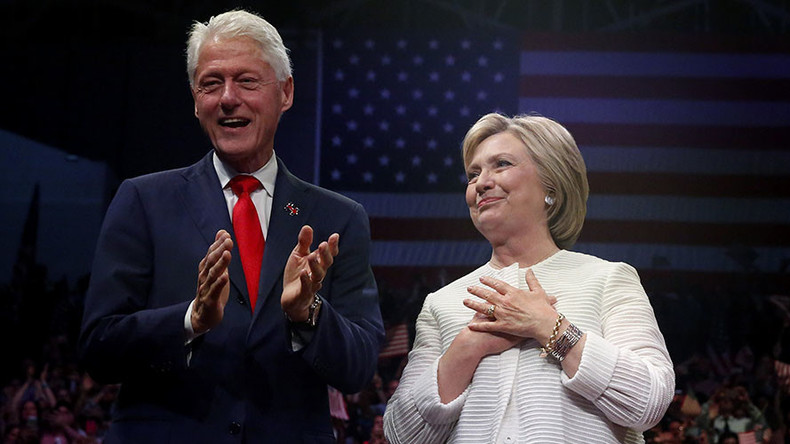 Hillary Clinton's presidential bid put a big dent in the Clintons' income, which went from $28 million in 2014 to just over $10 million in 2015, while the vast majority of charitable donations by the couple went to their own charity, their tax returns reveal.
Former President Bill Clinton and his wife file tax returns jointly. Their 2015 filings show an income of $10.6 million, far less than the $28 million reported in 2014. Speaking fees continued to make up two-thirds of the Clintons' income, but dropped to $6.7 million from almost $20 million in the year prior.
So the Clinton's income went from 20mil in 2014 to 10mil in 2015...How does one lose that much income in a year?Must be extreme carelessness

— Amy Grove (@mygrove) August 12, 2016
Clinton and her running mate, Virginia Senator Tim Kaine, released their tax returns on Thursday in an effort to pressure the Republican nominee, Donald Trump, into doing the same.
READ MORE: Clinton, Kaine release tax returns to put pressure on Trump

The power couple took in $3.1 million from their books, while Bill Clinton's consulting business brought in just under $1.7 million. Documents show the Clintons paid $3.24 million in federal income taxes in 2015, with their total federal and state tax burden amounting to 43.2 percent – down from 45.8 percent in 2014.
In 2015, the Clintons reported $1,042,000 in charitable donations. Of that number, however, $1 million went to their own Clinton Family Foundation, a separate endeavor from the Clinton Foundation. Only 4 percent of their contributions went to other charities, a fact that did not escape some observers.
Put another way, the Clintons gave a whopping 0.4% of their 2015 adjusted gross income ($10.6 million) to non-Clinton-run charities.

— Michael Tracey (@mtracey) August 12, 2016
The Democratic presidential nominee famously told ABC's Diane Sawyer in 2014 that she and her husband "came out of the White House not only dead broke, but in debt." The former first lady moved to the Senate, where she represented New York. In 2009, Clinton became secretary of state in the Obama administration.
After resigning from the State Department in February 2013, Clinton went on the speaking circuit, charging $225,000 or more per appearance. Among the hosting organizations named in the documents were the National Association of Chain Drug Stores, Institute of Scrap Recycling Industries, and the International Deli-Dairy Bakery Association, but the former top diplomat also gave three speeches to investment giant Goldman Sachs. Clinton has refused to release the transcripts of those speeches.
You can share this story on social media: