We're gonna need a bigger stage: Presidential debate commission preps for more than 2 candidates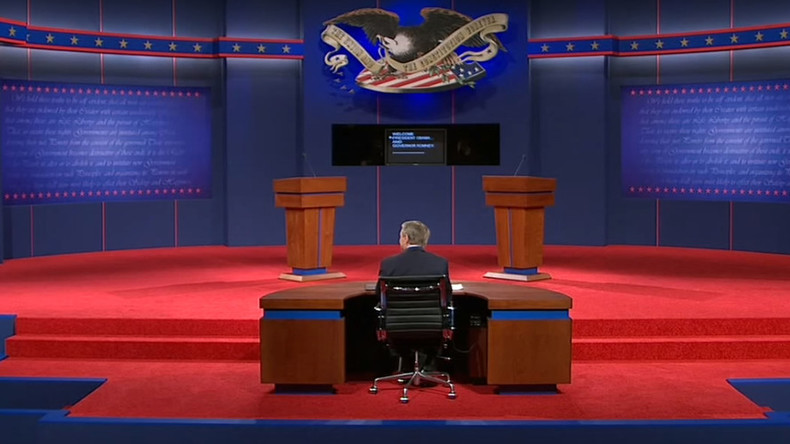 The rise of 'third' party candidates such as Libertarian Gary Johnson and Green Jill Stein has prompted the controversial Commission on Presidential Debates to issue a heads-up to this year's hosts that they might need a bigger stage.
Venues hosting the three presidential debates between Hillary Clinton and Donald Trump, as well as the single vice presidential showdown, have been told to add space for a third person, fueling the hopes of many Americans for a lively, open discussion about America's future.
The Commission on Presidential Debates (CPD), a private, corporate-sponsored group which oversees the process, advised hosts to make more room on their stages.
The group said the advice is not a reflection on the state of the race, but a way to make the venues prepared in the event that a third, or possibly fourth, candidate passes the 15 percent threshold set by the organizers.
A recent lawsuit by Johnson and Stein challenging the height of that bar was thrown out by a judge, but this news is a bit more encouraging for both surging parties.
"With Gary Johnson polling in some places more than double digits, some of our production people may have said, 'Just in case, you need to plan out what that might look like,'" Commission co-chair Mike Mc Curry said to Politico.
For a candidate who isn't a Democrat or Republican to get the chance to participate in presidential debates, they must gain a minimum of 15 percent in five national polls, "using the average of those organizations' most recently publicly-reported results at the time of the determination."
Johnson is polling at about 8.6 percent, while Stein is at 4, according to Real Clear Politics polling averages.
Candidates must also appear on a "significant" number of state ballots "to have a mathematical chance of winning a major vote," a milestone which both Johnson and Stein will probably be able to reach.
CPD member Frank Fahrenkopf told CNBC that there may be some wiggle room for a candidate that is close to the 15 percent figure.
The CPD and its rules have been criticized for stacking the deck unfairly in the favor of candidates from the two main parties, and for its corporate ownership that has nothing to do with the political system.
The Commission was founded in 1987 with the primary purpose "to sponsor and produce debates for the United States presidential and vice presidential candidates" and conduct research and educational activities surrounding the debates.
It was set up by the Democratic and Republican parties to counter the non-partisan League of Women voters which was then in charge of debates. The parties were unhappy with the consideration the league gave to third parties and sought to wrest control of the debates, which they did.
It has also been accused of "rigging" the contest by scheduling debates on the same dates as NFL games. Trump went so far as to say the NFL wrote to him to express its disappointment at the schedule, a claim that was discredited by the NFL.
As usual, Hillary & the Dems are trying to rig the debates so 2 are up against major NFL games. Same as last time w/ Bernie. Unacceptable!

— Donald J. Trump (@realDonaldTrump) July 30, 2016
The CPD banned Green Party candidate Ralph Nader from attending the 2000 George W Bush and Al Gore debates. Nader brought a lawsuit against them, which revealed the commission had given security guards photos of third party candidates who were banned from the debates.
In 2012, Green Party candidate Jill Stein and running mate Cheri Honkala were arrested when they tried to enter the grounds where a Barack Obama and Mitt Romney debate was being held - and later held in a blacksite, according to Stein's exclusive interview with RT last month.
The last third party candidate to score a place at the debates was Ross Perot in 1992.
The first presidential debate will be September 26 in New York, followed by St Louis on October 9 and Nevada on October 19. The vice presidential face-off will be on October 4th in Virginia.