5 best moments from the Green Party convention the MSM didn't cover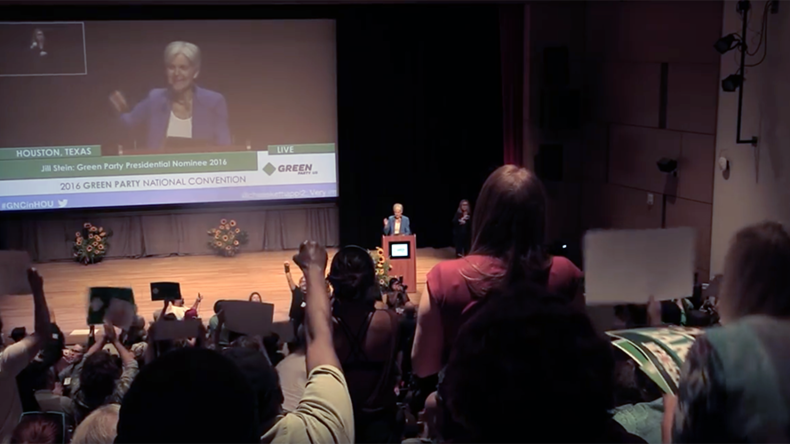 The US Green Party's national convention wrapped up in Houston, Texas this weekend, but you wouldn't know it from the mainstream media.
Highlights included a speech from Wikileaks co-founder Julian Assange, the introduction of the only African-American in the race, and Jill Stein's official nomination.
Here now are the five best moments from the undercovered convention.
1) Jill Stein accepts the Green Party nomination
Jill Stein, who would make history as America's first female, Jewish and medical doctor president, accepted her party's nomination Saturday, along with her running mate, African-American activist Ajamu Baraka.
Like Hillary Clinton's acceptance speech two weeks before, the crowd shouted "Jill not Hill," although this time they weren't told to "shut up."
Stein highlighted core Green Party issues such as climate change, demilitarization, opposing the TPP, ending mass incarceration and the war on drugs, and reparations for slavery and indigenous people.
She also promoted marriage equality, which the Green Party supported back when Democrats such as Clinton were backing the anti-LGBTI Defense of Marriage Act (DOMA).
"We have been ahead of the curve for decades, and all of a sudden that curve is catching up to us - big time," Stein said to applause.
2) Bernie backers welcome
Much of the three-day convention centered around the Green Party's efforts to court disgruntled supporters of Bernie Sanders after he endorsed Hillary Clinton.
"I want to recognize the people coming out of the Bernie Sanders campaign who launched a political movement and refused to let that movement die in the Democratic Party," Stein said. "You have completely changed the political dynamics going forward, it will never be the same and there will be no stopping you, there will be no stopping us until we have achieved that change that we have all put on the platform together."
READ MORE: 'Forget the lesser evil, fight for greater good': Jill Stein courts Bernie backers at DNC (VIDEO)
The convention saw its largest attendance ever, which a spokesperson credited to last minute sign-ups from the Sanders camp.
3) Introducing... Ajamu Baraka
Green Party vice presidential nominee Ajamu Baraka, a human rights activist, writer and organizer, delivered an impassioned speech on the consequences of austerity, the rising homelessness among black women, the millions of people without healthcare, and the lack of opportunities for those who wish to work.
"There are millions of people who are prepared to do something different, who are prepared to go another way. And we are going to be there to provide that opportunity for a new day and another way," Baraka said.
African-American voters were one of Hillary Clinton's strongest bases during the primary, despite footage of her referring to young black men as "Super Predators."
Now, even though her running mate Tim Kaine executed five black men while governor of Virginia, it remains to be seen whether Ajamu can attract activists from the #BlackLivesMatter movement over to the green side.
4) Julian Assange speaks
Wikileaks founder Julian Assange addressed the convention on Saturday from inside the Ecuadorian embassy in London.
He discussed Stein's chances of reaching the 15 percent threshold set by the corporately-funded Commission on Presidential Debates. Four years ago, she was arrested and detained in a 'blacksite' after trying to debate Obama and Republican candidate Mitt Romney, as she explained in an interview with RT outside the Democratic convention.
"I'm serious. You never know. Who knows what happens in a campaign, anything is possible. [The Clinton and Trump campaigns] continue to generate oversight and resistance, which will not only create a fertile field for Gary Johnson and Jill Stein to grow their support but will create a fairly fertile field to understand and hold government accountable," Assange said.
The whistleblower repeated his views on the 'lesser of two evils' argument for voting for Clinton or Trump, comparing the choice to choosing between cholera or gonorrhea.
READ MORE: Assange tells Green Party conventions choosing Trump or Clinton like 'cholera or gonorrhea' (VIDEO)
Wikileaks recently released emails from the Democratic National Committee which revealed how the party colluded to get Hillary Clinton nominated over Bernie Sanders.
5) Cornel West
Dr Cornel West, who previously supported Sanders, reinforced his support for Stein during his convention speech.
"We understand the difference between a neo-fascist catastrophe and a neo-liberal disaster," he said.
Many hoped Stein would pick him as her VP nominee, but as he exclusively told RT during the Democratic convention last month, running for office is "not his calling."