Assange tells Green Party convention choosing Trump or Clinton like 'cholera or gonorrhea' (VIDEO)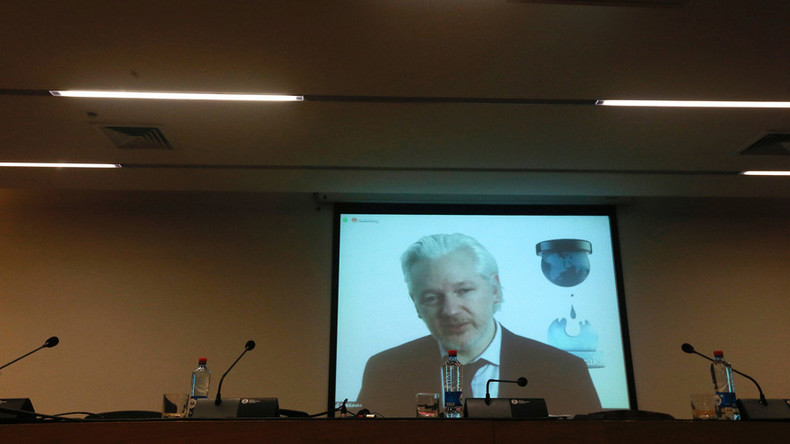 Appearing via video link at the US Green Party's national convention in Houston, Texas, WikiLeaks founder Julian Assange said electing Donald Trump or Hillary Clinton is like choosing between "cholera or gonorrhea."
Describing the result of November's election as an "horrific vision" at the event on Saturday, Assange, who was appearing via a video link from the Embassy of Ecuador in London, said he's frequently asked which of the presidential nominees he would prefer.
"I was asked this question: 'did I prefer Clinton or Trump?' The answer is 'You're asking if I prefer 'cholera or gonorrhea'," Assange told the crowd, who can be heard laughing. In late July he made a similar statement appearing on a Democracy Now! show.
During the interview, Assange also said it was very possible for the Green Party's presidential nominee, Dr. Jill Stein, to be elected president.
"I'm serious. You never know. Who knows what happens in a campaign, anything is possible," he said.
Stein stands on 4 percent, trailing Libertarian Party nominee for President Gary Johnson by 4, while Clinton leads the charge on 45 percent, 8 points ahead of Trump, according to the latest ABC News/Washington Post poll.
READ MORE: 'We can offer a real alternative' – Green Party VP candidate to RT (VIDEO)
Assange described how the Clinton and Trump campaigns "continue to generate oversight and resistance, which will not only create a fertile field for Gary Johnson and Jill Stein to grow their support but will create a fairly fertile field to understand and hold government accountable."
His comments come only days after he told RT's Afshin Rattansi how there are many questions around Clinton's connections and what impact it could have on her decision making if elected president.
Assange speaks about the files submitted to Wikileaks and how they highlight her connections to Islamic State, Saudi Arabia and Russia, as well as how there is no evidence linking the latter to the recent DNC leaks.