'Conservative warrior' Missouri candidate fires machine gun in bizarre ad (VIDEO)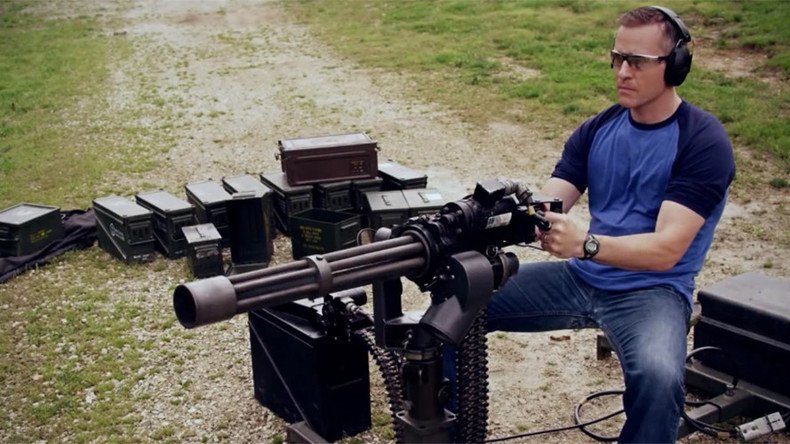 An ex-Navy SEAL seeking to become the next governor of Missouri is turning heads with yet another odd campaign commercial, this time showing him firing a six-barreled machine gun over a lake.
After almost 10 years serving with the US special forces in Iraq and Afghanistan, Eric Greitens is vowing to herald in a "conservative revolution" in the Show Me State.
The 42-year-old took a significant step towards his goal on Tuesday, when he sealed victory in the Republican gubernatorial primary.
While the success of a relative political outsider might have grabbed the headlines, it's his gun-toting military style ads that have garnered mixed reactions over social media in recent days.
An advertisement posted on the politician's official Twitter page on Sunday branded Greiten a "conservative warrior" who is "under attack from Obama's Democrat machine."
Featuring voiceover work perhaps normally reserved for a Hollywood blockbuster, the campaign promo shows Greitens fixing a bullet belt to a Gatling-type firearm before firing it over a body of water.
READ MORE: Internet hoodwinked as syphilis model used in fake Clinton campaign ad

It suggests that Greitens is ready to "fight back" against liberals, explaining how the St. Louis native will set his sights on corrupt politics, create jobs, protect life and defend the right to bear arms.
The video is the source of ridicule on social media, with some people labelling the Republican nominee an embarrassment in need of "psychological help."
But not everyone believes the advertisement to be "tasteless," as evidenced by Greitens' success in the primary election.
It follows a similar advert in which Greitens was seen blowing up "politics as usual" with an assault rifle.
You can share this story on social media: