Internet hoodwinked as syphilis model used in fake Clinton campaign ad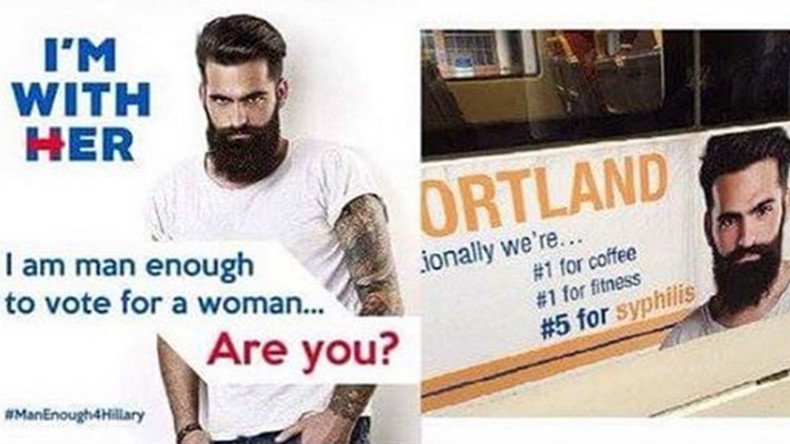 Internet trolls were beaten at their own game after being duped by a fake ad for the Hillary Clinton campaign. The same model featured in a syphilis awareness billboard was seemingly encouraging men to vote for the Democratic presidential candidate.
Twitter trolls everywhere took the bait and wasted no time putting the boot into the former Secretary of State.
Portland ranks fifth in the national league table of per capita cases of the disease and last year a hunky hipster was drafted in to spread the word on the dangers of the sexually-transmitted infection.
His image dominates the billboard for an ad which tells the public that Portland is "#1 for coffee, #1 for fitness and #5 for syphilis infections."
However, a fake tweet has been circulated suggesting the bearded model has moved from the sphere of public health to the political arena.
A photoshopped image shows him issuing a rallying cry to men to vote for Clinton in what appears to be an ad on the side of a bus or subway train.
The poster entitled "I'm with her" pushes the tagline: "I am man enough to vote for a woman, are you?"
It subsequently emerged it was fabricated, though the #ManEnoughForHillary campaign has been pushed since earlier this year with genuine ads.
A Clinton spokesperson confirmed to Jezebel that the tattooed gentlemen was not employed by their team: "This is not an ad from the campaign."
You can share this story on social media: