Human chain saves woman from flooded car in Maryland (VIDEO)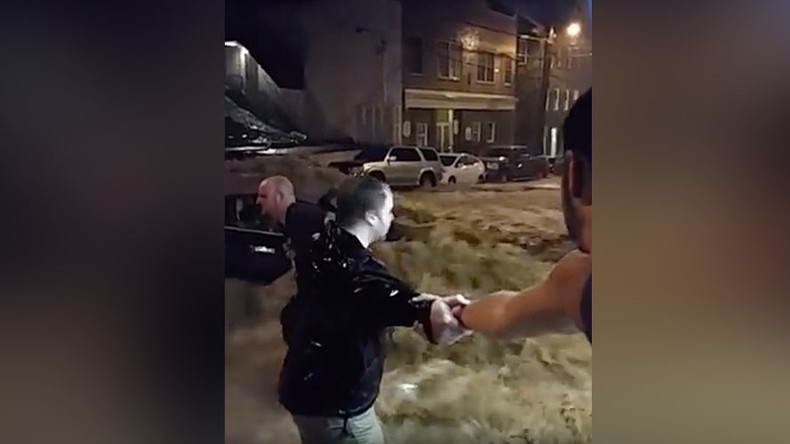 The dramatic moment a woman was rescued from her car as flood waters rushed through the streets was captured on camera by a local business owner in Ellicott City, Maryland.
Sara Arditti and other bystanders were watching the water gush through the city on Saturday from the safety of the doorstep of her business as cars were swept along the road, but then noticed that one of the vehicles had a woman inside.
As the car got stuck in front of the building, the group decided to form a human chain to rescue the woman.
Another shop owner, Jason Barnes, is seen slowly making his way through the flood waters. At one point he falls down due to the intensity of the water but manages to stand up again to help with the chain.
Onlookers appear frustrated at first when the woman in the car doesn't get out but gradually she makes her way through the passenger window into the arms of a helper who carries her to safety.
Authorities said two people were killed in the flooding and 120 others were rescued, according to NBC.
Other footage emerged from the aftermath of the flooding, showing a desolate town with properties severely damaged by the harsh weather.
Writing in a Facebook post, Arditti said the rescuer was "incredibly lucky" after initially slipping and falling in the water.