Chicago cops involved in fatal shooting 'relieved of police powers'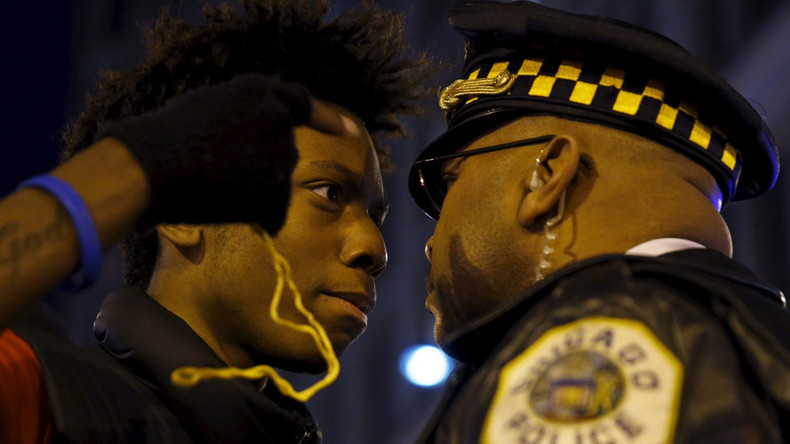 Paul O'Neal was shot and killed by Chicago police officers after he was pulled over for driving a stolen vehicle. Now the officers that shot him are on desk duty, as Chicago's Independent Police Review Authority looks into the incident.
Two unnamed officers pulled O'Neal, 18, over after spotting him driving a Jaguar convertible that had been reported stolen from a suburb southwest of Chicago. Two police vehicles were blocking O'Neal during the stop, when the teen sideswiped a squad car and civilian vehicle parked nearby, WLS reported.
John Escalante, First Deputy Superintendent of the Chicago Police Department, told WLS, "The driver of the stolen vehicle put the vehicle in drive, and literally forced his way out by sideswiping both the squad car and a vehicle that was parked on the street on Merrill. It was at that time that we believe two officers discharged their service weapons."
O'Neal died from gunshot wounds in Chicago's Northwestern Memorial Hospital. The circumstances surrounding O'Neal's death remain mysterious, as it is unknown whether he came close to hitting the officers or if they were shooting at him while he was fleeing.
Eric Russell, President of the Tree of Life Justice League of Illinois, believes that if it is the latter, it is an unjustified shooting.
"How is it, a chase ends up in a homicide, and our kid, chased a kid down," Russell told WLS. "These kids don't have visas. These kids aren't not going to skip the country. These kids have a small world. If you don't catch them today, you catch them tomorrow."
The Independent Police Review Authority (IRPA) claims that some officers were taken to the hospital. However, their injuries were minor and they are expected to be fine.
O'Neal's friend, Lamon Reccord, expressed frustration with the situation in Chicago, saying, "This is the 13th brother I've lost to gun violence, by the police or black on black crime. I'm tired, I'm fed up."
"It's a heartbreak to see African Americans get gunned down by each other already and to see the police kill us as well, it's time to abolish the bad police officers," Reccord added.
While Chicago's police are being forced to answer to IPRA, many have some questions for IPRA itself.
The Chicago Tribune reported that former South Side commander Glenn Evans is claiming that IPRA has shown bias against him in its investigations.
Evans, whose time as a South Side commander was marred by allegations of undue aggressiveness, believes that IPRA's inquiries, such as one into whether he shoved a gun down the throat of Rickey Williams in 2013, stem from a grudge held against him by investigator Matrice Campbell.
In a lawsuit filed on Thursday evening, Evans claims that Campbell leaked information about the misconduct cases to the media. For example, he believes she told Chicago radio station WBEZ that his gun had tested positive for Williams' DNA.
Campbell had previously been a subordinate of Evans during her time with the Wentworth District police station. She was written up for insubordination in 1999, and the complaint claims that "Campbell has harbored animosity toward Evans ever since."
A judge acquitted Evans of charges related to Williams in December. Evans also believes that cases have been reopened against him, such as one resulting from Rita King's claim that Evans broke her nose for refusing to be fingerprinted. IRPA's first investigation cleared him of all wrongdoing.
Evans believes that the case was reopened by IRPA's current leader, Sharon Fairley, as retaliation for the Williams case.