Clinton's support drops 16% among youth in one year – poll
Published time: 30 Jul, 2016 04:01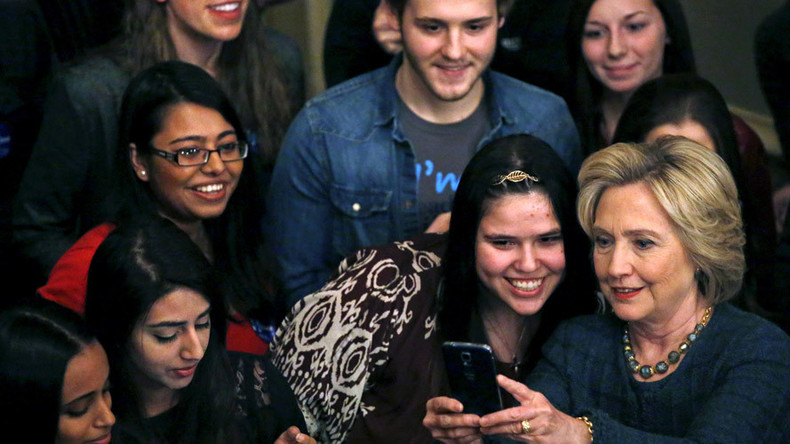 David Bowie sang of the lure of the "Young American," but the Hillary Clinton campaign has been losing favorability among America's youth, with the Democratic candidate's popularity dropping 16 percent from a year ago, according to the latest Gallup poll.
Gallup tracked the presidential candidate's appeal over the month of July and found that only 31 percent of 18-to-29-year-old Americans had a favorable view of Hillary Clinton.
That is a drop of 16 percentage points from a year ago, when the same age group gave her a 47 percent favorability rating, which was higher than that given by other age groups.
"Clinton's popularity problem with young Americans stands out because young people skew Democratic in their political identification and are often disproportionately positive about national Democratic figures," stated Gallup.
Gallup attributed Obama's victory in 2008 and 2012, in part, to his "constituency of 'Obama coalition' voters," predominantly young Americans aged 18-29.
Clinton's favorability among young people fell dramatically in February and March of this year, and did not recover through July. The drop in appeal might have been connected with the rise in the popularity of Vermont Senator Bernie Sanders, whose presidential campaign drew massive support from America's young demographic, while drawing voters away from Clinton.
"Nearly seven in 10 young Americans see Michelle Obama (69%) favorably, and another 64% view Bernie Sanders favorably; older Americans are less positive about both," stated Gallup.
The Gallup poll found that, in July, Clinton's image appealed to 40 percent of 30-to-49-year-olds, 41 percent of 50-to-64-year-olds, and 39 percent of those 65 and older. Gallup said that she had suffered a drop in favorability in all of those groups compared to a year ago.
For those 65 and older and 50-to-64-year-olds, her favorability dropped 2 percent. For 30-to-49-year-olds, her appeal remained the same.
The poll also found Clinton underperforming with young Americans relative to other Democratic Party presidential nominees of the past. In 2004, John Kerry had enjoyed a 63 percent approval rating from the group.
"Young Americans should be Clinton's natural constituency. Half identify or lean Democratic (50%) and 31 percent identify as liberal, the ideology most often associated with the Democratic Party," stated Gallup. "By contrast, all other age groups are less Democratic and more conservative."