True heroes: Police rescue armed robbery suspect from burning car in Texas (DRAMATIC VIDEO)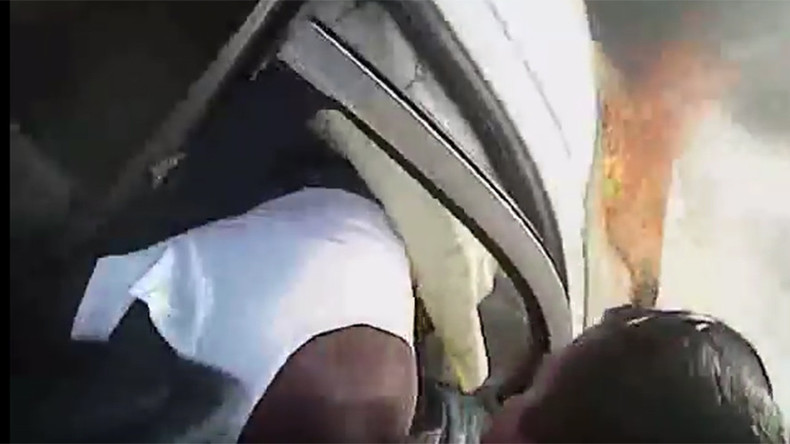 Police officers have been hailed as true heroes after they managed to rescue a robbery suspect from a burning car, despite the fact that the suspect might have been armed. The rescue was caught on one officer's body camera.
The video was released by Fort Worth Police, Texas, on Thursday.
"RAW video from [an] officer's Axon body camera system showing heroic rescue of a suspect trapped in his burning vehicle. Heroes," the statement under the video says.
"It was pretty dramatic," said Sgt. Marc Povero, a Fort Worth public information officer, as cited by WFAA news. "We recruit people that can think on the fly, think quickly, and perform under pressure."
According to police, the incident took place earlier in July. The officers responded to a call of an armed robbery in Avington Way. There were three suspects, reportedly armed.
READ MORE: Number of US police officers killed by guns surges by 72 percent compared to July 2015
Police then engaged in a dangerous pursuit as the suspects' car drove at speeds of up to 160kph. The vehicle crashed on a frontage road and its engine erupted into flames.
"One of the suspects fled, we detained another but then there was the third guy in the front seat," says Povero.
When police saw the fire, they quickly jumped into action to free the remaining suspect from the front seat. The door was jammed, so they had to remove the almost-unconscious man through the window.
READ MORE: Baton Rouge shooting: 3 police dead & 3 injured, shooter dead – LA superintendent
"When the officers pull him from the vehicle, you can see one of the corporals ask him if he's OK. He's unconscious," said Povero.
The incident took place at almost the same time as the Dallas and Baton Rouge shootings of police officers.
"In light of what happened a couple of weeks ago in Dallas and Baton rouge, people are taking notice of what police officers do on a daily basis," said Povero. "Keep in mind, they found weapons in the car."
According to WFAA, all three suspects are currently facing robbery charges.
At least 31 law enforcement officers have died on duty since the beginning of the year, a remarkable increase from the 18 officers who lost their lives over the same period in 2015, the National Law Enforcement Officers Memorial Fund reported.