'Great Wall of Love' dwarfs Westboro Baptist anti-LGBTQ 'hellfire' tour (VIDEO)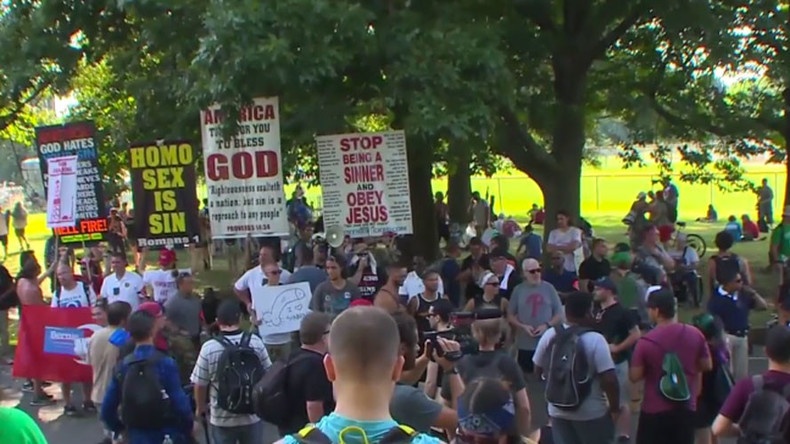 Members of the infamous Westboro Baptist Church, considered a hate group in the US, walked into a 'Great Wall of Love' while invoking 'hellfire' outside a Philadelphia gay wellness centre.
The church criticizes gays, Muslims, and Catholics, and is perhaps best known for protesting at funerals of gay soldiers. This time it was targeting the Mazzoni Center, calling it a "running sore" in the community.
Just four members turned up though, according to CBS Philly, and were met by a large crowd with colourful LGBTQ flags and tongue-in-cheek placards.
Footage shows Team 'hellfire awaits' being swamped by anti-hate revellers.
The 'Great Wall of Love' Facebook page invited people to take part in a "very peaceful blockade to shield the patients of the Mazzoni Center" and pulled in 3,000 expressions of interest.
"WBC uses their protests as a way to earn money – they do so by trying to rile up counter-protesters and police in the hopes that they do something WBC can sue them for. Do not engage with WBC," the demo page stated.
Following Tuesday's counter demonstration, the Mazzoni Center issued a statement thanking supporters for voicing their disgust at the Kansas church's "extreme, vitriolic messages and speech."
"The outpouring of support is a testament to the value of our work, and to the amazing goodwill of so many in Philadelphia," the statement read.