'We'll help you become Pokemaster': US Navy retracts Pokemon Go recruitment strategy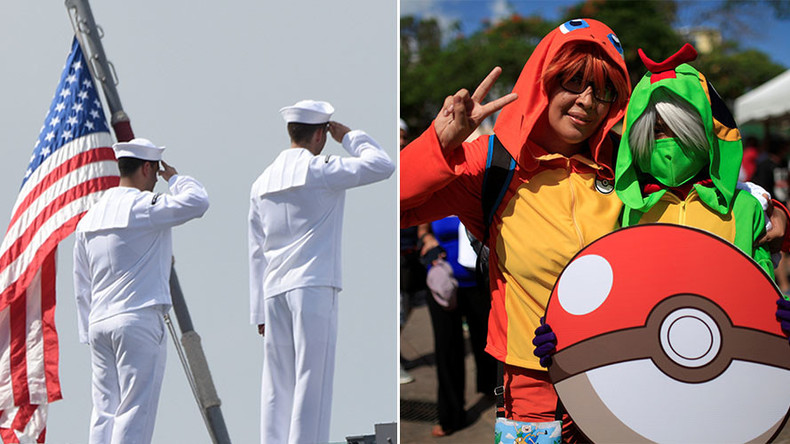 The US Navy has apologized after a picture of a recruitment poster selling the army as the ultimate destination for Pokemon Go players emerged online.
READ MORE: Navy struggling to recruit submarine crews... because sailors can't use Facebook underwater
The poster promised to give Pokemon gamers an opportunity to "catch 'em all" around the world. That objective differs slightly from the Navy's official mission of "winning wars, deterring aggression and maintaining freedom of the seas" – though, to be fair, it does not specifically detail which war one would be winning.
"Would you like to play Pokemon Go around the world?" the poster enticed. Travel, weapons and endless gaming opportunities, what's not to like?
"The United States Navy has the ability to take you around the world, allow you to play Pokémon Go, and help you achieve the goal of becoming a Pokémon master!"
While naturally commended for effort, the recruiting tactic was condemned for being extremely misleading, and just plain stupid. It was subsequently removed from all recruiting pages on social media.
READ MORE: Soldiers accidentally set fire to officers' mess with stray flare during kayak duel
"Navy Recruiting Command very much encourages innovation and empowerment with our recruiters," read an emailed statement from the organization, according to Quartz.
"[However] some recruiters made a bad decision in attempting to use the current Pokémon phenomenon to recruit Sailors for the Navy" (you don't say!)
Oh well, better luck next time. In unrelated news, the Navy recruitment team is now recruiting.
What about the US Air Force, though?