Sanders delegates boo Clinton mentions as DNC seeks to show unified party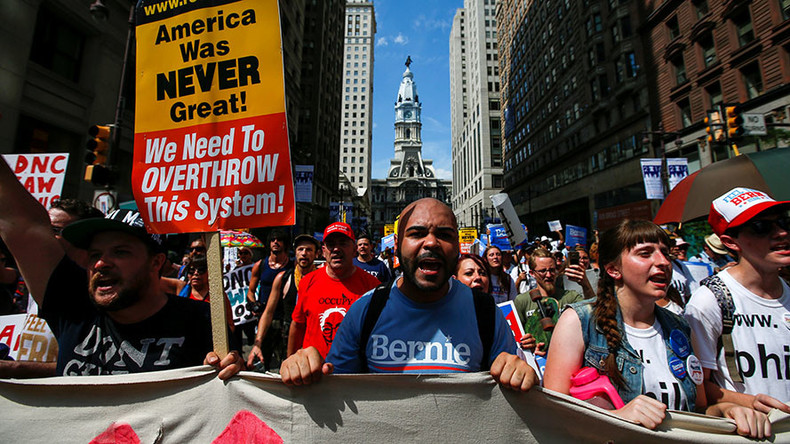 Supporters of former Democratic presidential candidate Bernie Sanders are making their presence ‒ and unhappiness over him not being the nominee ‒ felt ahead of the Democratic National Convention in Philadelphia, Pennsylvania.
The Democratic Party is trying hard to portray that it is unified, especially after the divisions that were at the forefront of last week's Republican National Convention in Cleveland, Ohio.
FOLLOW LIVE UPDATES: Democrats flock to Philadelphia for nominating convention
At the California delegation breakfast on Monday morning, Sanders supporters chanted his name and booed any mentions of presumptive Democratic nominee Hillary Clinton.
Texas delegates have been warned not to boo anyone at the convention, or their credentials will be pulled. "You're not going to embarrass the state of Texas," they were told, according to Texas Tribune reporter Patrick Svitek.
When the Vermont senator spoke to his delegates, boos again rained down at the mention of how the Democratic National Committee handled the primary process.
"Make no mistake about it we have made history!" Sanders said. "And as all of you will recall, when we began this campaign over a year ago, we were considered to be fringe players among the establishment and corporate media," he continued as the audience booed.
"Well, a year has come and gone. we're not fringe players anymore!" he said chants over of "Bernie! Bernie! Bernie!"
Many people protesting outside the convention center are Sanders supporters.
Some are chanting, "Lock her up!" ‒ a chant popular at the RNC last week.