Debbie Wasserman Schultz booed off stage at Florida delegate meeting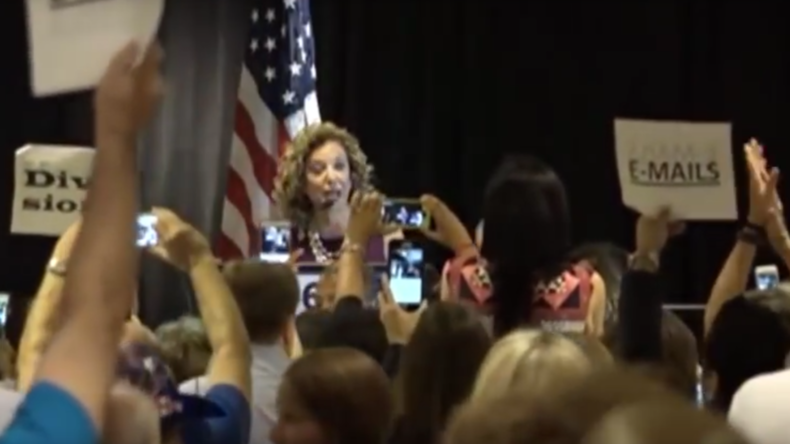 Debbie Wasserman Schultz, chairwoman of the Democratic Party's governing organization, was booed off stage while speaking at the Florida delegation breakfast before delegates headed to the Democratic National Convention (DNC) in Philadelphia.
Ahead of the DNC, Wasserman Schultz was introduced on Monday to Florida as "an unbelievable leader to the party," but the crowd seemed to disagree.
As soon as Wasserman Schultz – who currently serves as a US representative from the state – took the podium, constant booing from the crowd drowned out anything she tried to say.
"I can see there's a little bit of interest in my being here, and I can appreciate that interest," she said, referring to her resignation that was announced in the wake of a WikiLeaks scandal that indicated that Wasserman Schultz and the supposedly neutral Democratic National Committee was colluding with the Hillary Clinton campaign to ensure victory against anti-establishment Bernie Sanders in the party's primary.
Several delegates at the meeting could be seen holding signs reading "Division!" and "EMAILS," referring to the scandal.
"We have to make sure that we move forward together in a unified way," Wasserman Schultz said over the unruly crowd. "We know that the voices in this room that are standing up and being disruptive, we know that is not the Florida that we know. The Florida that we know is going to make sure that we continue to make jobs."
Attendees began to chant, "Shame! Shame! Shame!" and Wasserman Schultz was quickly escorted away from the podium.
The embattled politician is slated to gavel in the Democratic National Convention in Philadelphia, even though her role in the event has been dramatically reduced after the email scandal.
"You will see me every day between now and Nov. 8 on the campaign trail and we will lock arms and we will not stand down," she told the booing crowd before leaving the stage.
While her role at the DNC has been reduced to something relatively minor, some pro-Clinton Democrats are pushing for Wasserman Schultz to remove herself from the convention entirely.
"It's causing the distraction no one wanted at the convention," one Clinton ally told The Hill.
Top Clinton surrogate Ed Rendell said on Monday morning that he wouldn't let Wasserman Schultz speak at the event.
"Well, let me preface it by saying I really like Debbie, but I wouldn't," he said on MSNBC's 'Morning Joe.' "I wouldn't, number one, for her own good because it's going to get messy when she gets up there."