Suspicious package at Israeli consulate in Manhattan triggers lockdown, bomb squad response
Published time: 21 Jul, 2016 22:37
Edited time: 21 Jul, 2016 23:21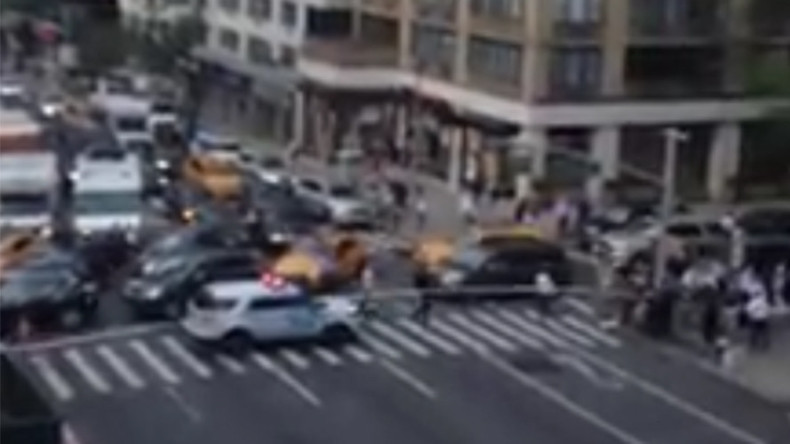 A suspicious package discovered near the Israeli consulate on Second Avenue in Manhattan triggered a heavy police response and the lockdown of the area. The bomb squad deployed to the scene gave an all clear after investigating the box.
READ MORE: 'I have a bomb & I want to die': Hoax NYC bomber arrested after 6-hour standoff
Officers at the scene examined a suspicious package left in front of the Israeli consulate at East 42nd Street and Second Avenue, and gave an all-clear, according to the NYC Scanner Twitter account.
According to the police scanner, a Level One mobilization was called in and a bomb squad presence requested at around 5:30pm EST. After deploying the Bomb Squad and the Emergency Service Unit, police established a safety perimeter, clearing traffic on Second Ave.
Streets around the Israeli Consulate building were evacuated as a matter of precaution, reports and photos on social media showed.
The package in question, a cardboard box, was placed at the delivery port of the consulate at around 6:00pm by a man who walked off the scene, camera footage showed, New York Daily News reported.
Earlier in the day, after a six-hour long standoff at Columbus Circle, NYPD managed to take a man who claimed to be in possession of a bomb into custody.
The 52-year-old, identified as Hector Meneses, tossed a hoax explosive through the open window of a police van in Times Square, before driving off and barricading himself inside an SUV claiming he wanted to blow himself up.
After hours of negotiations the suspect was taken into custody and taken to a hospital for evaluation.