Muslim man ordered to leave plane for making attendant 'uncomfortable'
A Muslim passenger was removed from an American Airlines plane for complaining about a flight attendant's inap
The incident occurred in December, but is making headlines only now after the Council on American-Islamic Relations (CAIR) filed a complaint to the US Department of Transportation, accusing the carrier of "discriminatory conduct."
Mohamed Ahmed Radwan boarded the American Airlines flight from Charlotte, North Carolina, to Detroit on December 6, 2015.
After the man took his seat, "a female flight attendant loudly announced: 'Mohamed Ahmed, seat 25-A: I will be watching you," a letter from CAIR lawyer Maha Sayed stated.
Read more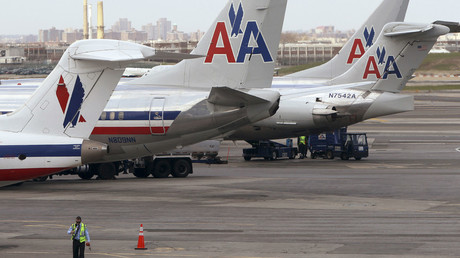 Around a minute later the stewardess repeated: "Mohamed Ahmed, that is a very long name, seat 25-A: I will be watching you."
After a third same message, Radwan approached the flight attendant to question her about the public comments she made, but was told that he was being "too sensitive."
The passenger then addressed two other crew members about the incident, but was eventually told to leave the plane for making the air stewardess feel "uncomfortable."
"I was in total shock," Radwan told the Charlotte Observer. "I've been flying for over 30 years, and I've never heard something like that."
"I've been a US citizen for 13 years, but at that moment I felt my sense of being American taken from me," he added. Radwan said he had to book a much later flight with another carrier as he "felt too unsafe to fly with American [Airlines] again."
The carrier says that it "thoroughly reviewed" the claim and concluded that no discrimination had occurred.
"We serve customers of all backgrounds and faiths and do not tolerate discrimination of any kind," it said in a statement.
READ MORE: Suspicious threat: Sikh woman's breast pump causes terror alert before Delta flight
In March, a Muslim family of five was removed from a United Airlines flight for "how they looked."
The following month, a Muslim was told to leave a Southwest Airlines plane in Chicago as she made the flight attendant "uncomfortable."