Flight delayed as professor suspected of bomb plot due to equation he was writing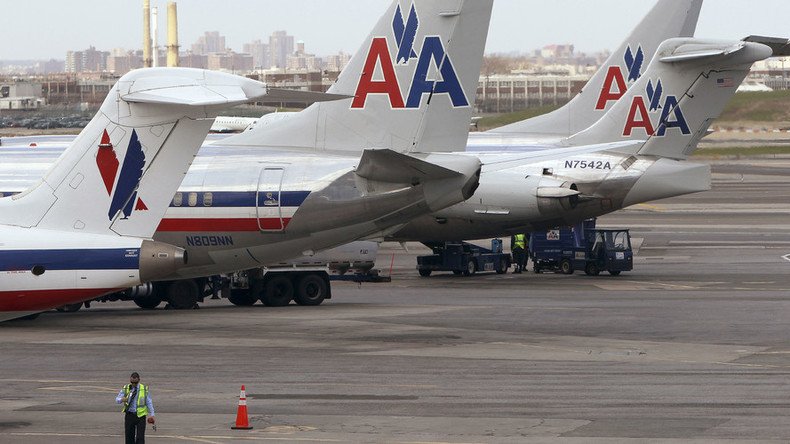 An American Airlines flight has been delayed due to a woman thinking an Ivy League economics professor could be a terrorist because of a math equation he was writing.
40-year-old University of Pennsylvania economics professor Guido Menzio was traveling from Philadelphia to Syracuse on Thursday.
He was solving a differential equation, when suddenly, as he describes it on his Facebook page, "The passenger sitting next to me calls the stewardess, passes her a note."
The plane then came back to the gate, and the passenger left, while Menzio was requested to leave the plane, too. He was then "met by some FBI looking man-in-black."
"They ask me about my neighbor. I tell them I noticed nothing strange. They tell me she thought I was a terrorist because I was writing strange things on a pad of paper. I laugh. I bring them back to the plane. I showed them my math," Menzio wrote.
American Airlines have confirmed that the woman informed them about Menzio. She said she was too ill to take the Air Wisconsin-operated flight. The air carrier spokesman Casey Norton told AP that the crew followed protocol to take care of an ill passenger and then to investigate her allegations. Norton added that the officials determined them to be non-credible.
Menzio is Italian and has curly, dark hair, and he is an outstanding Ivy League academic, having had spells at Princeton and Stanford universities.
In the end, Menzio, was allowed to board the flight, which was over two hours late, scheduled to depart at 7:20 p.m. local time, but eventually leaving at 9:42 p.m. The woman who raised the false alarm didn't fly.
"Not seeking additional information after reports of 'suspicious activity' ... is going to create a lot of problems, especially as xenophobic attitudes may be emerging," Menzio wrote in an e-mail to AP.
It's not the first such incident, ethnic profiling included, over the last few months.
In April, an Iraqi student was removed from a Southwest Airlines flight after passenger complained he was speaking on the phone in Arabic. In fact, the student was talking to his uncle.
READ MORE: Muslim student removed from Southwest Airlines flight 'for speaking Arabic'


You can share this story on social media: