3 in 5 Americans already 'worn out' by election coverage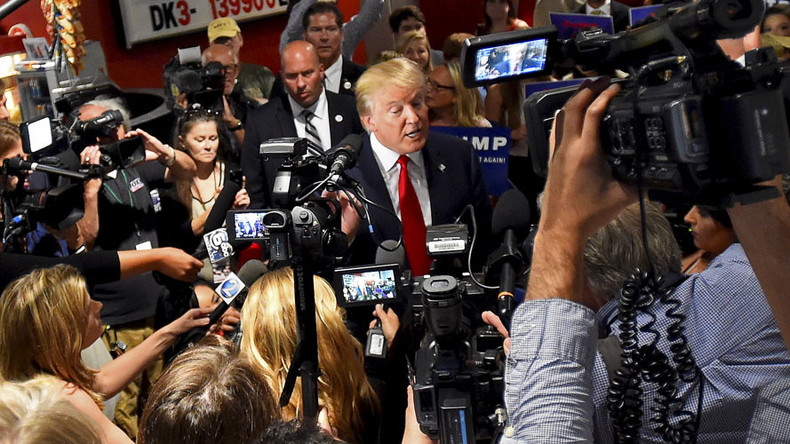 Four months before they are due to go to the polls, most Americans are already tired of the endless media diet of Clinton vs. Trump, a new Pew survey has revealed. Respondents also complain that the coverage is concentrating more on personalities than issues.
Fifty-nine percent of the 4,600 people interviewed by the Pew Research between June and July say that they are "worn out" by the campaign, while 39 percent say they are happy with the quantity of reports, stories and tweets about the upcoming vote. Worst off are those who do not follow the election closely – 69 percent of those say the coverage is over-saturated.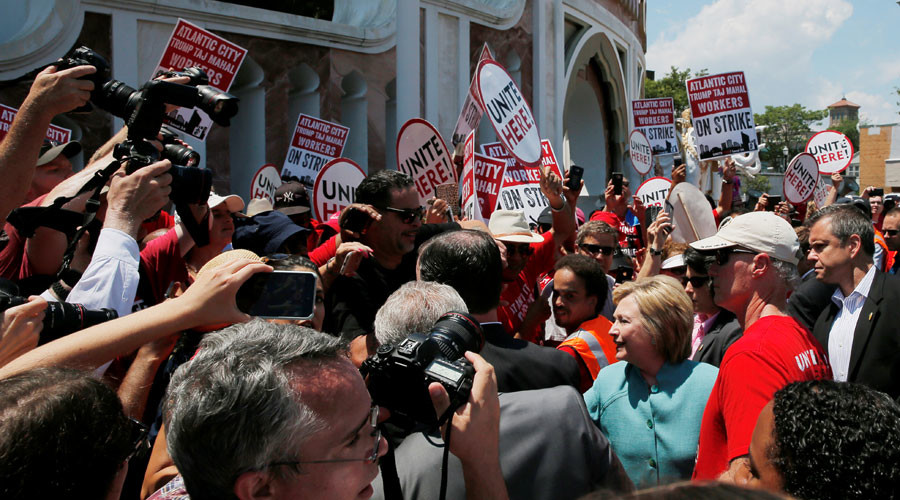 In an election featuring some of the most polarizing candidates in recent history, who are keen to endlessly broadcast their views through social media, stump speeches and sit-down interviews, it is perhaps of little surprise that the electorate feels most negative about being exposed to too many comments made by the presidential hopefuls.
Four more years of weakness with a Crooked Hillary Administration is not acceptable. Look what has happened to the world with O & Hillary!

— Donald J. Trump (@realDonaldTrump) July 15, 2016
Next week in Cleveland, Republicans will nominate someone who thinks "Latino outreach" is tweeting out a picture of a taco bowl.

— Hillary Clinton (@HillaryClinton) July 14, 2016
Forty-four percent say there has been too much coverage of comments, while only 15 percent say they want to hear more from Donald Trump and Hillary Clinton. Similarly, respondents are sick of stories about candidates' personal lives (43 percent want less) and news about who is ahead (37 percent).
Read more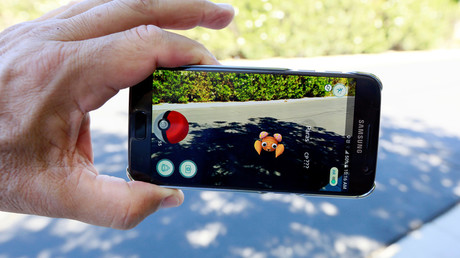 On the other side of the scale are candidates' stances on various issues. Fifty-five percent of those asked said they wanted more coverage of that, while only 13 percent said there was too much. However, media data has shown in the past that people's stated preference for in-depth policy articles and stories is not reflected in the amount of clicks, while glib stories about offhand comments or soundbites can quickly go viral.
Democratic and Republican supporters mostly agree on the campaign coverage apart from one issue. Fifty-three percent of Democrats and those leaning toward them believe that not enough is being made of the experience of the candidates that makes the suitable for the job, while only 36 percent of Republicans feel the same way. Given Democratic nominee Hillary Clinton's wealth of administrative experience, compared to that of Donald Trump, who has never held office, this grievance is understandable.
Other results show that 18- to 29-year-olds are suffering the greatest fatigue (67 percent), perhaps due to having their social media feeds invaded by unsolicited electioneering. Women (62 percent) are also more tired of election coverage than men (56 percent) and whites (62 percent) more than ethnic minorities.
Perhaps the most worrying number for the campaign managers is that 65 percent of Independents –those key floating voters that are still up for grabs, who will decide the outcome of the November vote – say they have had enough, far more than committed Republicans (54 percent) and Democrats (55 percent). Undoubtedly, these numbers could lead to a toning-down of campaigning, and more meaningful content. Or with war chests worth tens of millions of dollars and the media ready to pounce, the messages could get only more loud, shrill and personal. Only the next four months will show whether the poll is correct.