Highway to jail: Missouri protesters jailed for blocking traffic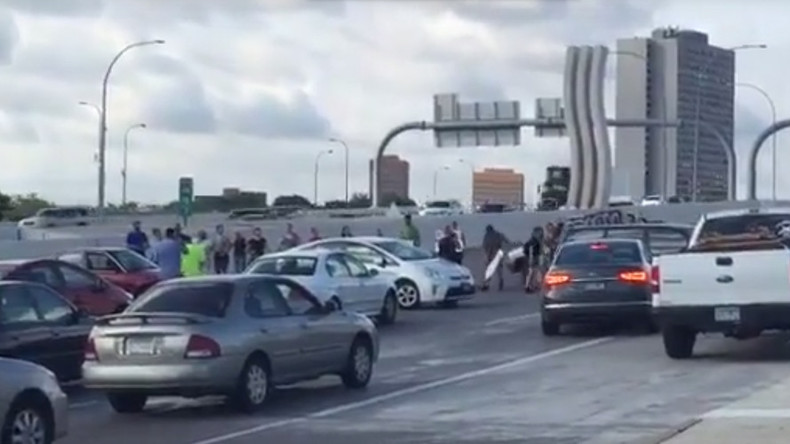 A protest on Minneapolis's Interstate-35 ended with 41 arrests, all on misdemeanor charges such as public nuisance and unlawful assembly. Bail was set at $78 for each protester taken into custody from the "Coalition to Wake Your Ass Up" demonstration.
A group of protesters working with the Coalition to Wake Your Ass Up gathered on Wednesday morning to block southbound traffic the I-35W as a response to the killing of Philando Castile by a Minnesota police officer. Their protest caught the attention of commuters, along with the Minnesota State Patrol, Hennepin County Sheriff's deputies and other law enforcement agencies.
"Last Wednesday evening, Philando Castile was shot 6 times," the activists' handout press releases read. "The coalition condemns this violence and believes this shut down reinforces our belief that comfort and business as usual must be disrupted until substantive changes occur in our city and throughout the country."
As noble as their intentions may have been, their protest was not protected by the First Amendment, Minnesota State Patrol Chief Col. Matt Langer told KARE.
"The State Patrol supports the right to exercise one's First Amendment rights, but the freeway is not the place to do so," Langer said.
He went on to say, "The closure of an interstate freeway for the purposes of a demonstration is unacceptable. They are used by everyone and are an artery for emergency vehicles. It is illegal to walk on the freeway and blocking traffic is dangerous for both pedestrians and motorists."
Four vehicles were impounded by the Minnesota State Patrol before traffic returned to normal.
While protesters on the highway were being rounded up, more were lined up on a bridge above the I-35W. They were removed after the highway was evacuated.