81% of US households experienced 'flat' or 'falling' incomes over past decade – research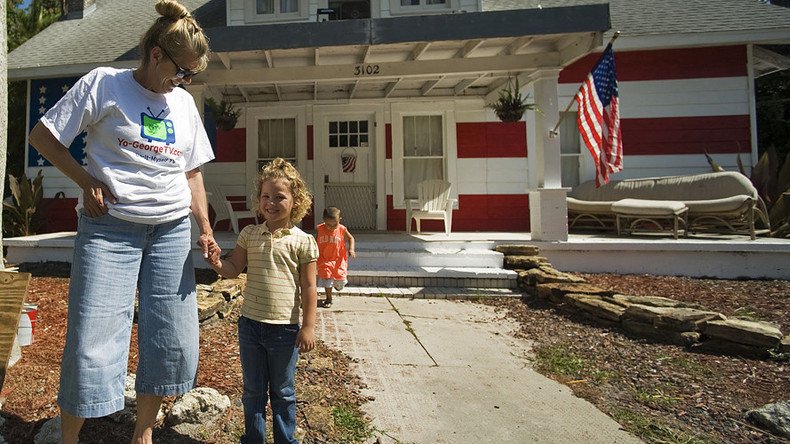 A staggering 81 percent of US households saw "flat" or "falling" incomes over the past decade, suggesting that the country's younger generation may end up poorer than their parents. Other advanced economies also showed distressing figures.
The research, conducted by McKinsey Global Institute (MGI) and published on Thursday, saw the US placing second on the list of advanced economies which saw flat or falling incomes between 2005 and 2014.
Italy topped the list, with just three percent of households experiencing a growth in income. The United Kingdom and the Netherlands tied for third place, with 70 percent of households experiencing flat or falling incomes. Next on the list were France (63%) and Sweden (20%).
A weighted average of the 25 wealthiest countries found that 65-70 percent of households saw no rise in their wages or capital income. That figure represents a total of 540-580 million people who are not getting any richer.
The study acknowledged that the "recession and slow recovery after the 2008 global financial crisis" were significant contributors to the lack of income advancement, but also stated that other factors such as "demographic trends of aging and shrinking household sizes" and "labor-market shifts such as the falling wage share of the GDP" played a role and "will continue to do so."
The economic situation has affected the way many of those with flat or falling incomes view the global economic system, with a "significant number" stating that they have lost faith in aspects of it.
In addition, nearly one-third of those who are not advancing said they expect their children to also advance more slowly in the future. They also expressed negative views about free trade and immigration.
If such low economic growth continues, the average proportion of advanced economy households with flat or falling incomes could rise as high as 70 or 80 percent over the next decade, according to the research.
But even if growth accelerates, the issue will not go away, according to the research. In that case, "the proportion of households affected would decrease, to between about 10 and 20 percent – but that share could double if the growth is accompanied by a rapid uptake of workplace automation."
The research did, however, mention some encouraging news, stating that it is possible to reduce the number of people who are not advancing economically.
"Labor market practices can make a difference, as can government taxes and transfers – although the latter may not be sustainable at a time when many governments have high debt levels," the research states.
The research used Sweden as a positive example, noting that the government intervened to preserve jobs during the global turndown and that market incomes subsequently fell or were flat for only 20 percent of households. In addition, disposable income "advanced for almost everyone."
Efforts by the US were also mentioned, with the research stating that "lower tax rates and higher transfers turned a decline in market incomes for four-fifths of income segments into an increase in disposable income for nearly all households."
"Efforts such as these – along with additional measures such as encouraging business leaders to adopt long-term thinking – can make a real difference," the research stated, adding that "the trend of flat and falling real incomes merits bold measures on the part of government and business alike."
You can share this story on social media: