Philadelphia airport workers to strike for $15/hour minimum wage during Dems convention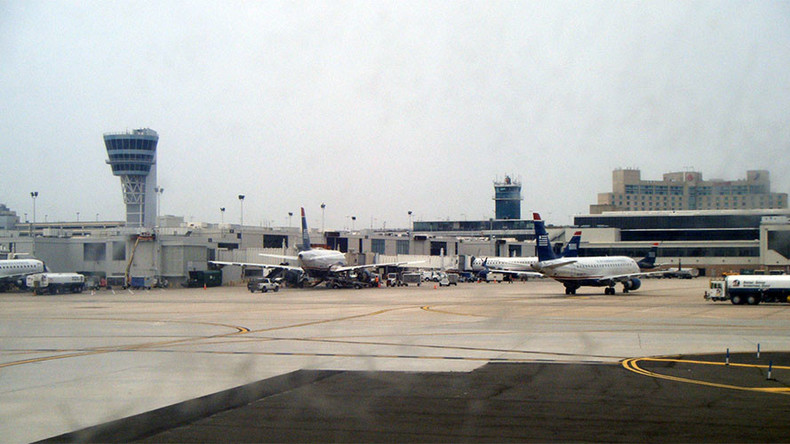 Service workers at the Philadelphia international airport just voted to go on strike during the Democratic National Convention later this month, seeking a higher minimum wage. The DNC has backed a Bernie Sanders proposal for $15 an hour – but with a catch.
Service Employees International Union (SEIU) local 32BJ is demanding the right to unionize airport workers, and calling for a $15 minimum hourly wage, an end to irregular scheduling, a clearer paid sick leave policy and a fair disciplinary system. Should the strike go forward during the Democratic convention, it may result in extended delays for anyone trying to get in and out of Philadelphia.
Of the 500 or so workers on shift Tuesday, 461 voted in favor of the strike, and only five were against, the Philadelphia Inquirer reported. Roughly 1,000 baggage handlers, wheelchair attendants, airplane cleaners and other service workers employed by airport subcontractors will be affected by the decision.
SEIU 32BJ representative Gabe Morgan says that, while other area unions have fair contracts and will not strike during the convention, the airport workers are getting fired for attempting to unionize.
"The purpose of the DNC is to lift workers out of poverty," Morgan told the Inquirer. "What these workers are fighting for is what the DNC and the convention is supposed to be about."
"Fifteen dollars an hour is a plank in the DNC," he added. "It was huge subject of debate during the Democratic Primary, and really what these workers are fighting for is the same thing the DNC is fighting for in the upcoming national election."
A few years ago, the fight for $15 was considered radical. Today, it is a cornerstone of the Democratic Party. Now let's make it the law.

— Bernie Sanders (@BernieSanders) July 9, 2016
Last Friday, the Democratic Party amended its platform to call for a $15 federal minimum wage. However, the final language advocated the wage increase "over time" and indexed for inflation, in a compromise between the presumptive nominee Hillary Clinton and Vermont Senator Bernie Sanders, who made the $15 minimum wage a major plank of his campaign.
Read more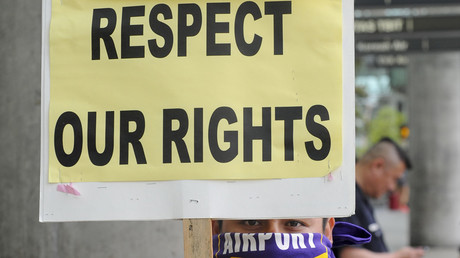 Clinton supporters blocked Sanders surrogates on the issue in late June, rejecting the $15 minimum wage by eight votes to six. The proposal was only adopted, with the added qualifier, after Sanders dropped his opposition to the Trans-Pacific Partnership (TPP) trade pact and agreed to endorse Clinton – which he did on Tuesday in New Hampshire.
No actual date for the airport strike has been set, leaving some hope that the authorities may negotiate with the union and avert travel troubles. In March, about 2,000 service workers at nine major airports across the US – including Philadelphia – went on a 24-hour "Poverty Doesn't Fly" strike.
The SEIU, which has 2 million members nationally, officially endorsed Clinton last November.