'Every societal failure, we put off on cops to solve…That's too much to ask' ‒ Dallas police chief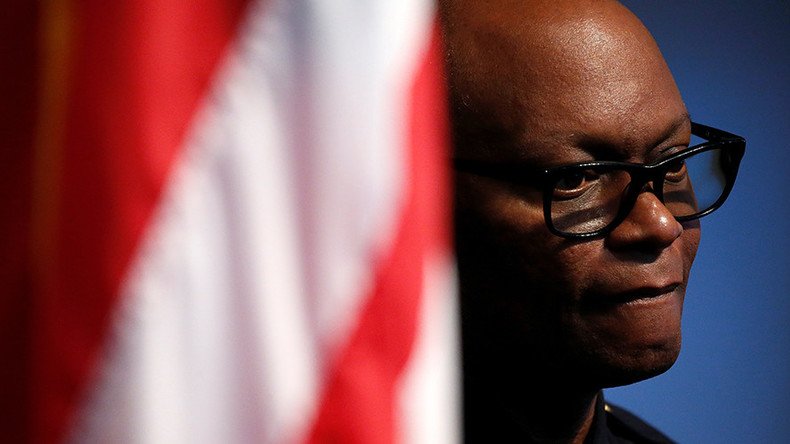 In an emotional and wide-ranging press conference, Dallas Police Chief David Brown called on lawmakers not to use law enforcement as a catchall for society's failures. He also discussed how difficult the recent shooting has been for his department.
Three days after an ambush that killed five police officers and injured nine more ‒ and the day before the first funeral is set to happen ‒ Brown could no longer be stoic as he addressed the media.
"To be quite honest, I'm running on fumes," he said when asked how he himself is doing. "Many of you have asked for interviews, and I've tried to nicely ignore you. I hope you understand that my brain is fried."
"I don't know how I'm going to make it through this week (from Tuesday through the last funeral)," Brown said later.
Policy makers, 'do your jobs. We're doing ours'
Although Brown said he didn't "want to get too distracted from grieving the loss" by talking about what can be done to cure society's ills, he did offer a few suggestions, often emotionally.
"Look, ask the policy makers to do something [on guns], then I'll give you an opinion. Put a law out there and I'll give you an opinion about it. But to have me do that job? I'll pass!" he said passionately. "Do your job. We're doing ours, we're putting our lives on the line. Other aspects of government need to step up and help us."
He noted that the Dallas Police Department offers the lowest starting salary of the surrounding jurisdictions, which has led to a problem with officer retention. However, the city's politicians are working on fixing the issue, he said.
Brown called on protesters to not just demonstrate against problems they see in their communities, but to do something to be part of the solution, as well. He outlined his career path, including dropping out of college his senior year to join the Dallas PD during the height of the crack-cocaine epidemic, as an example of how people can serve their communities and become part of the solution.
"We're hiring," he said. "We'll put you in your neighborhood, and we will help you resolve some of the problems you're protesting about."
Most of all, Brown said, is that America is asking police to do too much.
"Every societal failure, we put it off on the cops to solve: Not enough mental health funding ‒ let the cops handle it. Not enough drug addiction funding, let's give it to the cops. Here in Dallas, we got a loose dog problem. Let's have the cops chase loose dogs. You know, schools fail, give it to the cops. Seventy percent of African-Americans are being raised by single women, let's give it to the cops to solve that as well," he said.
"That's too much to ask. Policing was never meant to solve all those problems," Brown continued. "I'll just ask other parts of our democracy, along with the free press, to help us, to help us and not put that burden all on law enforcement to resolve."
'Community policing works, it makes us all safer'
Brown, a 33-year veteran of the Dallas PD and a third-generation Dallasite, has been at the forefront of the community policing movement in the US. Last year the city experienced an "unprecedented 12th consecutive year of crime reduction, for a total of a 53 percent reduction in crime," he said, noting that the reduction is bigger than any other major US city.
Despite the fact that his officers were shot at a march supporting the Black Lives Matter movement after law enforcement in other cities had shot and killed two black men, he is adamant community policing is still the way forward.
"This tragic incident will not discourage us from continuing the pace of urgency in changing and reforming policing in America," he said. "We are committed to community policing. It is, in the 21st century, it is the best way to police our country. It's the best way.... Community policing works, it makes us all safer, I'm convinced."
The hardest thing for the department, in the wake of the shooting, has been fatigue. Brown thanked the Dallas PD's law enforcement partners, including the FBI, for their help in the days since. The only thing they haven't provided, he said, is counseling.
"I'm at the point of making a tough decision about mandating some of it because we want to be Superman and Superwoman, and we're not. And we're the last to say we need help," Brown said. "Our profession has suffered from this for quite a while now, and I don't want that on my conscious, that someone needs help and they're too proud to ask."
For his part, he says he is trying to express to each officer he can, face-to-face, how much he appreciates them: "So you won't see me walking past an officer w/o grabbing them and hugging them and shaking their hand and telling them how grateful I am for their commitment and sacrifice."
When asked about how he bridges being an African-American man and a police chief, he responded, "I've been black a long time."
"It's not so much a bridge for me, it's everyday living," he continued. "It's my normal to live in this society that had a long history of racial, you know, strife. We're in a much better place than we were when I was a young man here, but we have much work to do ‒ particularly in our profession ‒ and leaders in my position need to put their careers on the line to make sure we do things right, not be so worried about keeping their job."
You can share this story on social media: