Dallas sniper shootings put spotlight on open-carry gun laws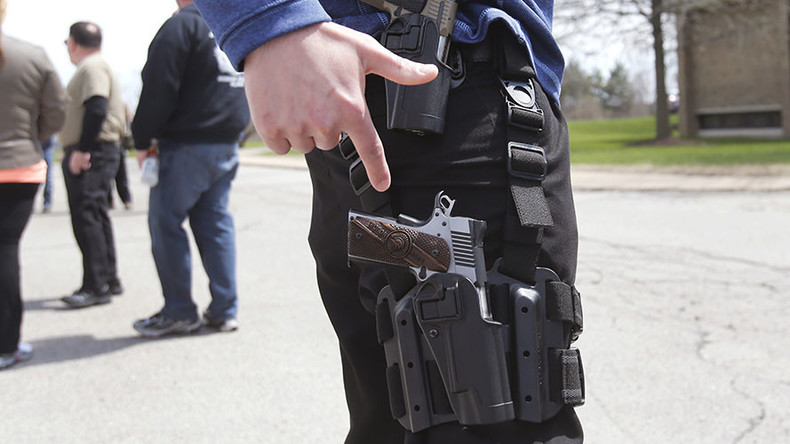 Following the sniper killings of Dallas police officers, the city's police chief and mayor ridiculed law in Texas that allows unconcealed carrying of long guns in public without a permit. Only three states completely prohibit the open carry of firearms.
The July 7 sniper ambush directed at Dallas law enforcement officers occurred amid a public demonstration in downtown Dallas. The protest, a response to police shootings of black men, was also attended by 20 or 30 people wearing gas masks and military-style garb while openly carrying rifles and handguns, according to Dallas Police Chief David Brown.
When sniper fire began, these armed persons were immediately tagged as suspects amid the mass confusion and chaos, complicating police response, Dallas officials have said. Police also released on social media a photo of one demonstrator, Mark Hughes, who was openly carrying a firearm. Hughes was called a suspect by police. Hughes was detained, questioned, and eventually released, saying later that police erroneously claimed they had video linking him to the shooting.
But in Texas, it has long been legal to openly carry a "long gun," such as a rifle, in public. Concealed-carry of firearms was legalized in the 1990s, and now more than 850,000 Texans have permits to do so. As of January 1, 2016, concealed-carry permit holders can also openly carry their handguns in the state.
"Doesn't make sense to us, but that's their right in Texas," Dallas Police Chief Brown told CNN on Sunday of the armed attendees of the rally. "For our officers, they were suspects. And I support that belief. Someone is shooting at you from a perched position, and people are running with AR-15s and camo gear and gas masks and bulletproof vests. They are suspects until we eliminate that."
Brown said Monday in a news conference that police can't "know who the good guy is and who the bad guy is when everybody starts shooting," referring to the highly-subjective frame of 'good versus bad' that often marks gun law debate in the US.
Dallas Mayor Mike Rawlings told CBS News that the state's open-carry law muddled police response "in the middle of a firefight."
"You know, in dealing with the law of gun holding, you can carry a rifle legally, and when you have gunfire going on, you usually go with the person that's got a gun," Rawlings said Sunday on Face the Nation. "And so our police grabbed some of those individuals, took them to police headquarters, and worked it out and figured out that they were not the shooters."
He added: "I wasn't there real time to kind of see it go on, but the common sense would tell you, you don't know where the gunfire's coming from. There were individuals that ran across the gunfire. They were in the body armor, camo gear with rifles slung over their shoulders, so it sure took our eye off the ball for a moment. We got them out of the way, we figured out what was happening, and we did our business."
Dallas police major Max Geron told the Dallas Morning News that the armed demonstrators sowed confusion among police.
"There was also the challenge of sorting out witnesses from potential suspects," Geron said. "Texas is an open carry state, and there were a number of armed demonstrators taking part. There was confusion on the radio about the description of the suspects and whether or not one or more was in custody."
President Barack Obama also spoke about open-carry laws during remarks on the Dallas shootings.
"[Police] have a really difficult time in communities where they know guns are everywhere," Obama said. "And as I said before, they have right to come home and now they have very little margin of error in terms of making decisions. So if you care about the safety of our police officers, then you can't set aside the gun issue and pretend that that's irrelevant."
In 2015, when the Texas Legislature was considering the current open-carry law, the only point of opposition within most official Texas law enforcement groups was an amendment that prohibited an officer from requesting a person's handgun license only because the person was openly carrying a gun. The largest police association in the state, the Combined Law Enforcement Associations of Texas, called the amendment "disturbing"; that search provision was eventually dropped from the bill as law enforcement opposition to it increased.
Beginning on August 1, students and faculty of public and private universities in Texas will be able to carry concealed handguns in campus buildings thanks to a recently-passed law by the state Legislature.
Other state laws
State laws on open-carry of firearms vary throughout the United States. Only California, Florida, and Illinois, as well as the District of Columbia, have outright banned open-carry of all firearms in public. Two states, New York and South Carolina, allow open-carry of long guns only. Three states — Massachusetts, Minnesota, and New Jersey — allow open-carry of handguns. In the remaining 42 states, open-carry of all firearms is legal, with various restrictions and regulations that firearm owners must follow.
In 31 states, for example, open-carry of a handgun is legal without a license, but some states require that handgun to be unloaded. In 15 states, a license is required to openly carry a handgun.
There is no federal law that restricts open-carry of firearms in public, though some restrictions apply to federal government property.
Yet even a proper gun license is no guarantee of justice, opponents of permissive gun laws say. In Minnesota, Philando Castile was fatally shot by police on July 6, contributing to protests around the nation, including in Dallas. Castile's girlfriend, Diamond Reynolds, who was in a car with Castile when a Falcon Heights police officer shot him, has said that Castile had a permit for a gun that Castile told the officer was in the car at the time of the deadly police encounter.
"He let the officer know that he had a firearm and he was reaching for his wallet and the officer just shot him," Diamond Reynolds said as she filmed the police encounter.
"I told him not to reach for it," the officer then says, to which Reynolds replies: "You told him to get his ID, sir."
Reynolds has called on Minnesota Governor Mark Dayton to ensure that "if we are licensed to carry, then a police officer should not be able to gun a man down for no reason."
The legislature in Florida, one of the only states with blanket open-carry prohibitions, considered a bill this year that would have legalized open-carry of firearms. Several police groups opposed the legislation, and the bill eventually failed.
Now, the Florida Supreme Court is currently considering a case that could usher in open-carry rights in the state. Last month, the state's high court heard arguments that included a challenge to the state's open-carry ban. The group Florida Carry said the state's restrictions violate the Second Amendment of the US Constitution, while the state's attorney general's office is appealing to the Legislature's power to restrict open-carry of firearms.