Dozens arrested during national protests over fatal shootings of Sterling and Castile (PHOTOS/VIDEO)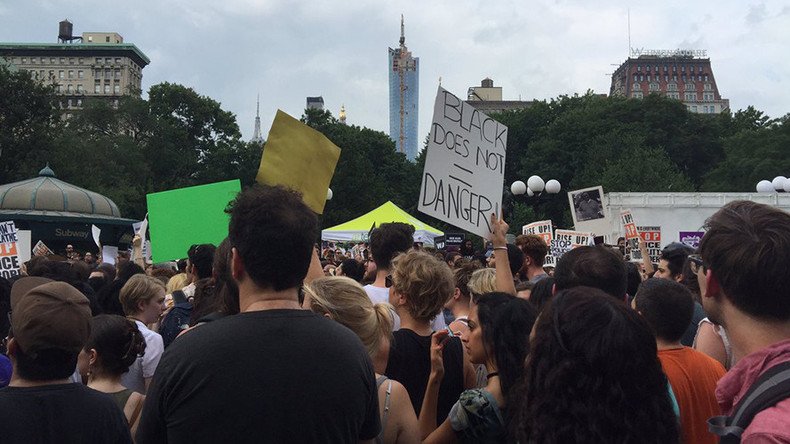 Dozens of arrests have made as thousands of activists in New York marched down the streets of Big Apple, demanding justice for Alton Sterling and Philando Castile, black men who were shot dead by police. Protests also in Dallas, Oakland, and at the White House.
According to an RT correspondent Rebecca Myles at the scene, few thousand activists are now taking part in the march in New York united under the Black Lives Matter slogan, that started at Union Square.
Carrying Black Lives Matter theme placards dozens of local peace activists groups, such as the Granny Peace Brigade, are taking to streets of the Big Apple in rush hour chanting, "Whose streets? Our streets!"
"Hands Up, Don't Shoot" is being shouted by the crowd as they shut down traffic to show that people "stand up against this racist system!"
The crowds grew so large that the Lincoln Tunnel and other major avenues in Manhattan were shut down by the protest.
As the march proceeded, social media users reported that the NYPD tried to block the rally.
After about half an hour, police tried to disperse the activists to make way for traffic in and around Times Square.
The NYPD have reportedly started detaining people after first threatening to arrest activists as thousands occupy downtown Manhattan. Activists and legal observers listening to police scanners tell RT there were approximately 35 arrests in Times Square.
The Stop Mass Incarceration Network, one of the NGOs organizing the march, said: "We will be letting this Racist system know that we are sick and tired of being sick and tired. You will not continue to murder us and we will not just sit back and allow you to do so!! We have nothing to lose but our chains!!"
Alton Sterling, a 37-year-old black man, died on Tuesday in Baton Rouge, Louisiana when he was standing in the parking lot selling CDs. That night police were responding to a report that a man dressed in red used a gun to threaten people outside the convenience store.
When the officers approached Sterling, one of them grabbed the suspect and tackled him, taking him down on the hood of a silver sedan.
During the course of the interaction, the other officer aimed his gun at Sterling's body and then fired four times. The shooting was recorded by multiple bystanders and showed the shooting to have happened at point-blank range.
The next day, on July 6, Philando Castile was shot at Falcon Heights, Minnesota after having been pulled over for a routine traffic stop. Philando Castile's girlfriend Lavish Reynolds live-streamed the aftermath of his shooting on Facebook.
READ MORE: 'He only did what police asked him to do': Girlfriend's emotional statement on Castile shooting
According to the footage, a police officer pointed his gun at the suspect who was covered in blood. Reynolds said that they had been pulled over for having a broken tail-light on their car. A child can be heard crying from the back seat in the video.
Alton Sterling and Philando Castile are the latest additions to a long list of African-American males who have been slain by white police officers across the US. Their names join Tamir Rice, Trayvon Martin, Michael Brown, Freddie Gray, Eric Garner, Akai Gurley, Walter Scott and Laquan McDonald.
Following the latest shootings, human rights activists have called for rallies to take place across the US. Besides New York, similar so-called "Shut It Down" protest rallies are being planned from Washington, DC to Oakland, California.
Oakland, California
Protesters in Oakland, California marched to the police department on Thursday afternoon to show solidarity with other protesters over the recent police involved shootings of two African American fathers, Alton Sterling and Philando Castile.


Protesters linked arms to block the 880 Freeway.
And red paint was splattered on the Oakland Police Department's front door.
Los Angeles, California
Also on the steps of Los Angeles City Hall, protesters chanted "These racist cops have got to go!" with one participant holding aloft a sign that read "Comply. Comply. Comply. And Still We Die."


Dallas, Texas
Multiple media outlets reported that shots were fired at police on Thursday during a Dallas protest over the two recent fatal police shootings of African American fathers. Three to six officers are reportedly injured, two confirmed shot, according to local news station KDFW. The condition of the officers is not known yet. There are reports of two suspects.
The gunfire broke out about 8:45 pm as protesters were marching in downtown, about half a mile from City Hall, causing them to scatter and seek cover.


St. Paul, Minnesota
Protesters chanted outside the governor's residence in St. Paul, Minnesota, miles from the spot where an officer killed Philando Castile in a car on Wednesday while a 4-year-old girl sat in the back seat.


"We are targets!" LaRhonda Talley said in an impassioned speech in Minnesota about the danger of being black in America, reported CNN.
"We made it across the (Atlantic). We made it to freedom and you're still killing us. You're still hanging us from trees. You're still killing us! Our lives matter!"
Baton Rouge, Louisiana
Crowds gathered in the streets outside the convenience store in Baton Rouge, Louisiana, where Alton Sterling was fatally shot while police grappled with him in a parking lot Tuesday.
Chicago, Illinois
Protesters briefly shut down the Dan Ryan Expressway in Chicago.


You can share this story on social media: