West Virginia flooding: 2 men presumed dead are found, death toll back to 23 (PHOTOS)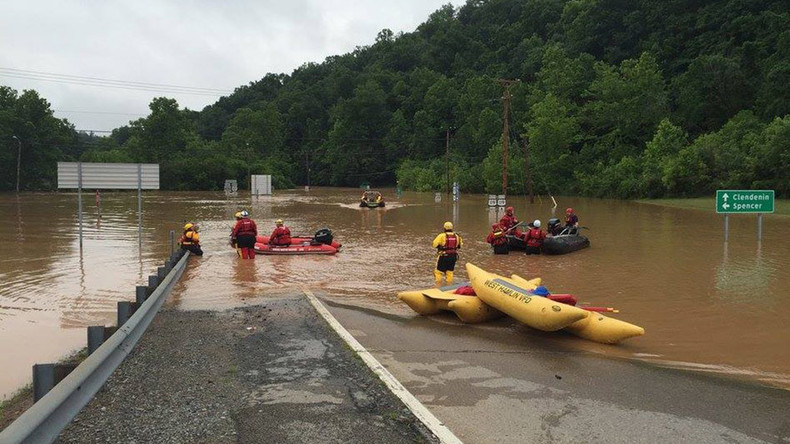 Two men who were presumed dead after their camper was swept away by mass flooding in Greenbrier County, West Virginia, have been found. The fatality count following heavy rains and persistent flooding across the state is now 23, according to reports.
Twenty people have been confirmed dead by the state Medical Examiner's Office, while three people remain missing and are presumed dead following flooding that has left 44 of the state's 55 counties under a state of emergency.
The revision to the death count was announced by the West Virginia Division of Homeland Security and Emergency Management (WVDHSEM), according to the Charleston Gazette-Mail.
Rains that began Thursday and subsequent flooding have hit Greenbrier County the hardest. Flooding in the southeast West Virginia county have left at least 15 people dead, according to the WVDHSEM. Dozens of roads have been closed by the state, and many bridges were destroyed in the onslaught.
A flash flood watch is still in effect for at least 22 counties, with additional rain, some heavy, expected into Monday evening.
There were 10,204 residents without power as of Monday morning, the WVDHSEM said. Around 18,000 customers of Appalachian Power and about 5,000 customers of FirstEnergy Corp. were without electricity as of Sunday evening, AP reported. Thousands of MonPower customers are also without power, according to the Gazette-Mail. Around 10,000 customers of Frontier Communications were without phone service as of late Sunday.
National Guard and Federal Emergency Management Agency (FEMA) teams are working to remove debris left by flooding, according to WVDHSEM spokesman Tim Rock.
Pursuant to an Obama administration order signed by the president on Saturday, flooding victims in Greenbrier, Kanawha and Nicholas counties can now apply for FEMA aid — including temporary housing and loans for uninsured property — ABC News reported.
The Gazette-Mail has more information for access to shelter, drinking water supplies, disaster assistance or cleanup aid.
Governor Earl Ray Tomblin (D-West Virginia) has called the flooding "among the worst in a century for some parts of the state." Authorities have yet to offer predictions for damage done by the rain and flooding thus far. In November 1985, flooding in the state left 47 dead and caused more than $570 million in damages.
On Thursday, as heavy rains began to fall, about 500 people were stranded overnight in a shopping mall complex in Elkview, about 12 miles (19km) from Charleston, the state's capital and largest city. A culvert bridge that connected the mall to a main road collapsed, according to reports. The state's Department of Transportation built a gravel bypass road by Saturday, enabling the evacuation.