US sacks another Navy commander for embarrassing detainment in Iranian waters
Published time: 25 Jun, 2016 04:11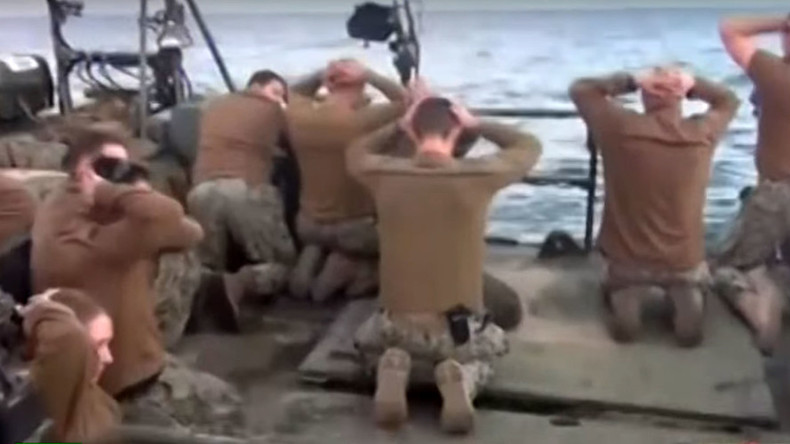 The commanding officer of a US Navy task force has been sacked following the investigation into an awkward international incident in which his group reportedly veered off course due to GPS failure and was detained by the Iranian coast guard in January.
Following an inquiry into the international incident in which ten US sailors of Task Force 56 were taken into custody by the Iranian coast guard, Commander of US Naval Forces Central Command Vice Admiral Kevin M. Donegan fired Captain Kyle S. Moses for the loss of confidence in his ability to command sailors. Moses was the commanding officer for the task force.
"Several weeks ago, I had initially taken what I felt was appropriate administrative and corrective action involving Capt. Moses, based on the preliminary results of the investigation, which I began immediately after we recovered our sailors," Donegan said in a statement.
"However, after thoroughly examining the findings of the final, comprehensive investigation, I determined that this additional action was necessary."
Moses became the second senior Navy officer to be sacked over the incident. In May, Commander Eric Rasch, the executive officer of Riverine Squadron 3 at the time of the incident, was relieved of his post.
The Navy is also considering taking additional disciplinary action against seven other US crew members who, on January 12, wandered into Iranian territorial waters in the Persian Gulf, where they were quickly apprehended and released some 15 hours later.
Their fate will be announced next week, an AP source revealed. The seven include the now-fired squadron commander Rasch, his executive officer and three of the sailors.
READ MORE: 'Never sailed this far, GPS failed': Errors of US sailors detained by Iran revealed
Iran managed to detain two small armed vessels, known as riverine command boats, when American sailors were making a 300-mile journey from Kuwait to the home of US Fifth Fleet in Bahrain.
At the time of the incident, Defense Secretary Ash Carter said the sailors made a navigational error that took them off course. The US position remained that riverine boats "planned transit path for the mission was down the middle of the Gulf and not through the territorial waters of any country other than Kuwait and Bahrain."
The incident raised tensions between the US and Iran after Tehran published footage of the seamen kneeling with their hands behind their heads. The US State Department allegedly used Secretary of State John Kerry's personal contact with Iran's elite to secure the crew's speedy release.