'Loss of confidence': Navy commander stripped of duties after sailors breached Iranian waters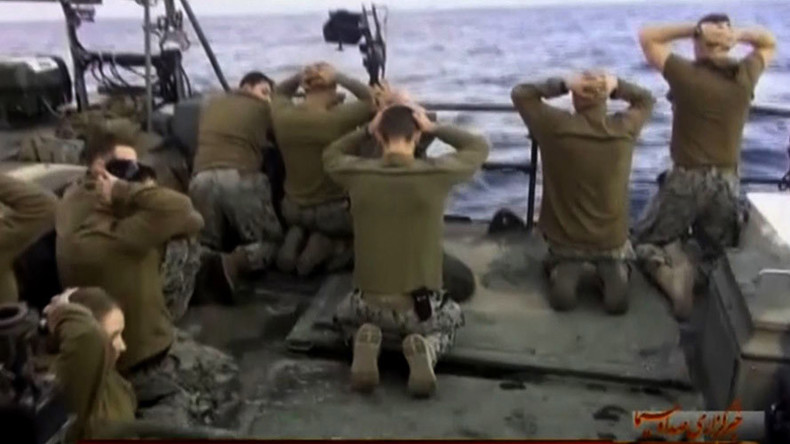 The US Navy commander overseeing 10 sailors who breached Iranian waters, leading to their arrest, has been relieved of his duties over "a loss of confidence." Earlier, the Pentagon said that a "navigational error" had led its sailors to Iranian waters.
"Commander, Coastal Riverine Group (CRG) 1, relieved Cmdr. Eric Rasch of his duties May 12 as commanding officer of Coastal Riverine Squadron (CRS) 3," the Navy said in statement on Thursday. "He has been temporarily reassigned to CRG-1,"
The decision comes after the January 12-13 incident, which saw 10 US sailors – nine men and one woman – on two small riverine armed craft, detained by Iran's naval guards after getting too close to the Iranian naval base on Farsi Island.
"Capt. Gary Leigh, commander, CRG-1, made this determination following his review of a preliminary investigation into the incident near Farsi Island in the Arabian Gulf, Jan. 12-13, involving 10 CRS-3 Sailors. Rasch was assigned as the executive officer of CRS-3 during this timeframe," the Navy's statement said.
Rasch was the executive officer of the squadron that included the 10 sailors and was also responsible for the training of the more than 400 sailors in CRS-3 unit. Before the results of a preliminary investigation, Rasch was reportedly promoted to the higher-ranking job in April.
Having joined the Navy in 1989 as an intelligence specialist, Rasch has become a career destroyer officer, according to the Navy Times. He has served on the destroyers Benfold, Hopper and Sampson.
In January, Rasch-trained sailors were heading from Kuwait to Bahrain, where the US Navy's 5th Fleet has a base. However, under the command of Lt. David Nartker, 27, they went off course and headed almost directly for Iran's highly restricted island in the middle of the Persian Gulf.
Trained to operate small, speedy riverine command boats (RCBs) designed to carry special operations troops on coastal waters, the sailors had to cover about 445km (277 miles) – twice the distance they were accustomed to.
READ MORE: 'Never sailed this far, GPS failed': Errors of US sailors detained by Iran revealed
Naval units from Iran's Revolutionary Guard Corps surrounded the American boats while the American crew desperately tried to assess a mechanical malfunction and restart the engine of one of their vessels. At that point, they did not realize that they had breached Iranian territorial waters, because the tiny islands had not appeared on their GPS device.
Two days after the incident, Secretary of Defense Ash Carter said that "the original cause" behind it was "a navigation error," not a mechanical one.
Having a choice between fleeing or surrendering, Nartker opted to submit to the Iranians. The crew was detained for 15 hours for questioning. They were all released on January 14 and returned to US custody.
The release deal with the Iranians was reportedly brokered by Secretary of State John Kerry, who managed to secure an agreement with his counterpart, Iranian Foreign Minister Mohammed Javad Zarif.
At the time of the incident and following it, the Iranians released a number of propaganda videos showing US sailors. One video released in January showed an American sailor apologizing from his detention.
"It was a mistake. That was our fault, and we apologize for our mistake," he said.
Further footage broadcast on Iranian state TV in February, appeared to show a US sailor crying after surrendering to the Iranians.
The US Navy rebuked Iran, with Secretary Kerry accusing Tehran of "exploitation of our Sailors in Iranian propaganda."