'Never sailed this far, GPS failed': Errors of US sailors detained by Iran revealed
Published time: 2 Mar, 2016 13:13
Edited time: 2 Mar, 2016 14:42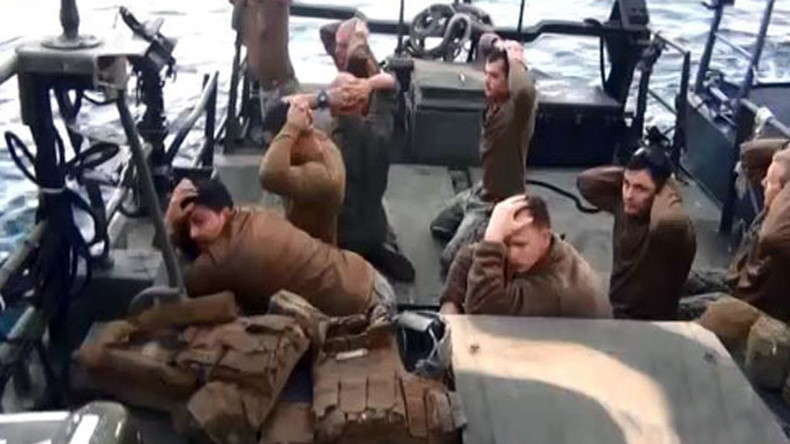 The incident in January which saw 10 US sailors detained by Iran's naval guards was caused by repeated crew errors, Foreign Policy magazine has revealed. The sailors had never traveled such distances before, got lost with GPS and their engine broke down.
The 10 US sailors on two small riverine armed craft were detained in mid-January by naval units from Iran's Revolutionary Guard Corps off Farsi Island in the Persian Gulf. The humiliating scene with American navy members kneeling in surrender on deck was filmed by the Iranians and quickly made headlines across the world.
Coming just days before a historic nuclear agreement with Iran, the incident could have rapidly escalated into an international crisis – but it also raised questions about the US Navy's capabilities and its readiness to operate in uneasy Gulf waters.
The fiasco can be put down to a number of reasons, according to an ongoing Navy internal investigation. Several people – including from the White House, congressional officials, and others familiar with the details – shared information with Foreign Policy on condition of anonymity.
The sailors detained by the Iranians were trained to operate small, speedy riverine command boats (RCBs) designed to carry special operations troops on coastal waters. On that day, starting from Kuwait, the sailors had to cover about 445km (277 miles) – twice the distance they were accustomed to.
Under the command of Lt David Nartker, 27, they were headed for Bahrain to take part in a military drill, having had less than 24 hours to prepare. Only one of their three boats was in order, FP's sources said. The crew had to cannibalize one craft to get a spare part for an engine for another boat that needed repair.
As a result of the lengthy preparations, the sailors unmoored three hours behind schedule – the late start making the crew nervous, and consequently causing serious errors as they tried to calculate the speed and time to get to a rendezvous with a tanker. Their 445km journey required refueling in the middle of the sea, which they hoped to complete by nightfall as they had never done vessel-to-vessel refueling at night before, according to FP's sources.
Deep into the Gulf, they failed to establish radio communications with the tanker and ventured into Iranian territorial waters west of the Farsi Islands.
Lt Nartker's crew reportedly did not even know where they had ended up, as the tiny islands did not appear on their GPS device. The sailors could probably have passed through the area smoothly without being detected, had it not been for one of the boats – the one that had been repaired back in Kuwait – breaking down. While they tried to revive its engine, two Revolutionary Guard boats showed up.
Shortly afterwards another Iranian vessel arrived at the scene, followed by a fourth, larger and more heavily armed, ship.
As the Iranians surrounded the American boats, the crew desperately tried to start the engine. They now faced a tough choice, FP revealed: either escape, using their powerful .50-caliber machine guns and GAU-19 mini-guns, or surrender to avoid the risk of unleashing a possible US-Iran conflict.
Lt Nartker, the officer in charge, opted to submit to the Iranians.
He and his crew were taken to the Farsi Islands, where they were questioned one by one and then offered food and drinks. The Americans later said they were not physically abused or mistreated. They were promptly released by the Iranians after a series of calls by Secretary of State John Kerry, who brokered the release with his Iranian counterpart Mohammed Javad Zarif.
The case raises a series of unanswered questions for the US military, FP notes, particularly about the maintenance of Navy vessels and sailors' training.
However, after the sailors returned home safely, the Navy command has to decide if the crew or their superior officers should be prosecuted for their conduct, probably referring to Lt Nartker's apology filmed while in Iranian detention: "It was a mistake, that was our fault, and we apologize for our mistake."
On Wednesday, the US Navy's chief of naval operations, Admiral John Richardson, claimed that Iran violated international law by detaining American sailors in its waters.
"Those sailors by international law should not have been captured and detained. I think we've made that very clear that that behavior is not consistent with international law," Admiral Richardson said at a House budget hearing, quoted by The Hill.