Democrats end 24-hour gun control sit-in at House of Representatives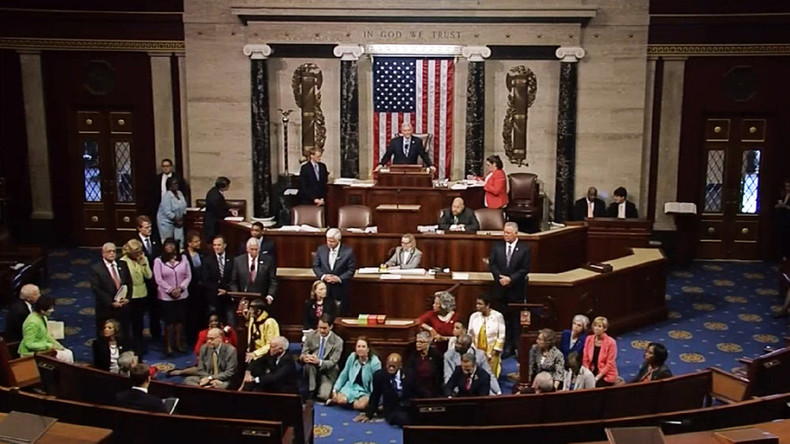 As the Republican majority called an early vacation and left town, Democrats ended their 24-hour protest that called for gun control by occupying the floor of the House of Representatives. Congress is officially in recess until after the July 4 holiday.
Representative John Lewis (D-Georgia), ended the sit-in at 1:04 p.m. Thursday, just over 24 hours after he began the protest by taking the floor.
The protesting Democrats had camped out on the floor of the House for over 24 hours. After the Republican leadership cut the official camera feed from inside the chambers on Wednesday, the cable channel C-SPAN began broadcasting the Periscope and Facebook Live feeds recorded by the sit-in participants.
The stated goal of the protest – to force the Republican leadership to put gun control measures up for a vote – was rendered moot on Thursday, however, when Speaker Paul Ryan (R-Wisconsin) declared the House in recess until after Independence Day.
Though Ryan ordered television cameras to cut their feed to the network, since this is 2016, the live streaming platforms helped Democrats continue their media stunt throughout the night and into Thursday morning.
The attempt to censor the opposition had a reverse effect, by inspiring the hashtag #NoBillNoBreak which is now trending online.
Ryan, who grudgingly endorsed Donald Trump for president this month, dismissed the sit-in as a "dilatory publicity stunt," telling CNN, "they're not trying to come up with a solution to a problem; it's trying to come up with attention."
"They know that we will not bring a bill that takes away a person's constitutionally guaranteed rights without... due process," the Wisconsin Republican added, stating he would not bring a gun control vote to the House.
Supporters of the Democratic sit-in have gathered outside the US Capitol with chants of "Shame on you" aimed at Ryan.
Democrats are demanding the vote to limit the access to certain guns for US citizens, but not police or the military.
READ MORE: Police killed over 1,100 people in US in 2015 – report
Earlier this week, the Senate rejected four proposed gun control measures, two Republican and two Democrat, with the votes split along party lines. Democrats have pushed for stricter gun laws after mass shootings such as the Orlando massacre which saw 49 people murdered and 53 injured, or San Bernardino, when an American man and a Pakistan-born, Saudi Arabia-raised woman killed 14 people for motives that are still under investigation.
A Texas Republican shouted "Radical Islam" during the sit-in, even though he opposes the efforts by Democrats to limit access to guns for potential terrorists, including "radical" Muslims.
READ MORE: 'Radical Islam!' shouts interrupt Dem House sit-in over gun control
You can share this story on social media: