Louisiana mother jailed for disciplining her kids for break-and-enter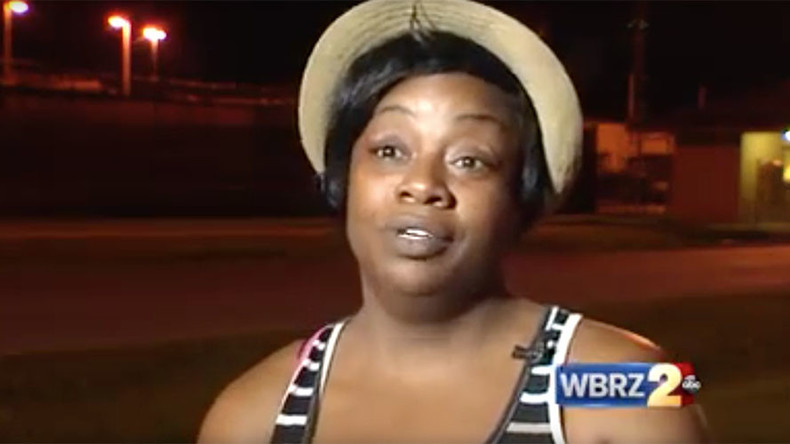 A Louisiana woman's method of keeping her sons away from crime has led to her arrest. However she received wide community support for whipping them with a cord after catching her three boys breaking into a neighbor's home.
On Friday, Schaquana Evita Spears, 30, caught her sons — ages 13, 12, and 10 — breaking into a neighbor's home in Baton Rouge, Louisiana, according to a Sheriff's Office report. They reportedly stole a hoverboard, electronics and other items from the home of Lisa Nicholson.
Spears, a cook who recently opened a catering business, was arrested early Monday. She admitted to hitting her sons as punishment for the break-in. She allegedly used an RCA cord on the boys, the 13-year-old son told child services officials at a juvenile detention center in Baton Rouge, The Advocate reported.
Spears told WBRZ that she used a belt on the boys when she arrived home following a phone call from a neighbor.
The eldest son had lacerations on his arms and marks on his leg, shoulder, back, and stomach, the sheriff's report said. Why the 13-year old was at the juvenile center was not revealed by detention officials, according to The Advocate. The 12-year-old son had cuts on his arm, while the 10-year-old boy had a scratch on his hand, the sheriff's report said.
Spears, who has no prior convictions on her record, was arrested on two counts of cruelty to juveniles. She was released from East Baton Rouge Parish Prison on Tuesday when her $1,000 bond was posted by a woman named Winter Applewhite, according to The Advocate.
"It's been hell," Spears told WBRZ upon her release. "I never could imagine trying to be a good mother would end me up in jail with a criminal record like I'm a predator out to hurt my kids who I live for. That's my world. Everything revolves around them. Everything I do is for my kids."
Spears' arrest has prompted questions and concern from the likes of the local district attorney and even the neighbor whose home was burglarized, as many believe Spears was attempting to teach her sons a lesson for their actions, which could have been deadly if the neighbor was home or police had arrived on the scene.
"Surely you would expect a parent to discipline a child who is burglarizing other people's homes as this could be a deadly encounter for the child," said East Baton Rouge Parish District Attorney Hillar C. Moore III, who added that the case is being reviewed.
Spears should be commended, not punished, said neighbor Nicholson, whose home was the target of the break-in.
"If it was me, I'm gonna beat you before I let the cops kill you," Nicholson told The Advocate. "I'm gonna do what I have to do. I'm not gonna let (my children) steal and kill and do all of that. I'm not gonna let them fall victim to the streets."
Spears echoed that sentiment after her Tuesday release from jail, saying that she was attempting to ensure that her kids don't end up in trouble.
"I'm from New Orleans, and I see it happening everyday," she told WBRZ. "It's a repeating cycle. Right now their dad is incarcerated. So, that was my main thing. I have them in the best of schools. They're on the honor roll."
"They're just being kids, being followers," she added. "I thought I was showing them this is not what you do. You do not steal people's stuff, what they work hard for. I know how that feels, I've had my house broken into. But, instead, I'm the bad guy for trying to discipline my kids and show them right from wrong."
Spears, who has six children total, said her kids were taken from her following the arrest.
"They took my kids from me," she said, holding back tears. "I have to put them in someone's custody. They've never stayed away from me. I'm all they have, and it hurts."
District Attorney Moore said in a statement that the "degree of physical discipline will be reviewed. The law does not allow excessive pain or cruelty but does allow physical parental discipline." He added that his office will "review all of the reports; meet with the [Department of Children and Family Services] office and review any history of this mother and her children to get a better picture of the entire family dynamics before making a decision."