1 in 5 US children live below poverty line, more than during Great Recession – report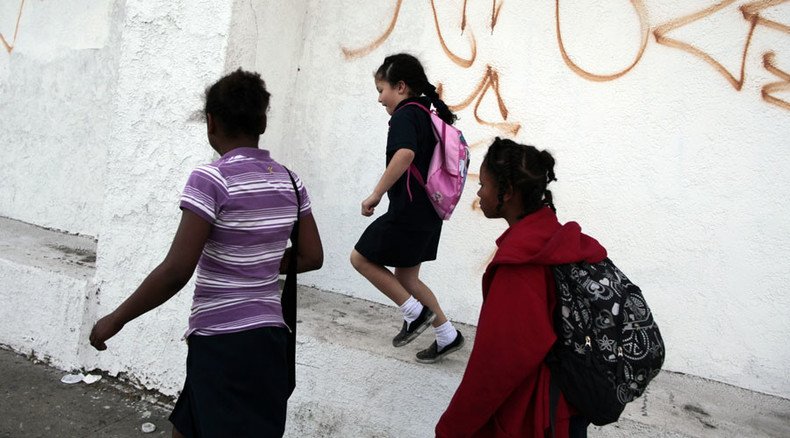 Around 22 percent of American children lived below the federal poverty line in 2013, up from 18 percent in 2008, according to a new report. Black, Hispanic, and American Indian children were twice as likely to live in poverty as whites.
The 2015 Kids Count Data Book ‒ released Tuesday by the non-profit group Annie E. Casey Foundation ‒ was compiled using federal government data collected from 2008 to 2013 to determine state-based trends pertaining to 16 factors related to quality of life for young children. Those factors include health, family life, community, and education.

The 16.1 million children living in poverty in 2013 counts for nearly 3 million more than those living in poverty in 2008, the beginning of the Great Recession. More than two million more children live in areas of concentrated poverty compared to 2006 to 2010, the report found. The federal poverty line in 2013 was considered to be $23,624 income for a family with two adults and two children.

"Although we are several years past the end of the recession, millions of families still have not benefited from the economic recovery," said Patrick McCarthy, president and CEO of the Casey Foundation. "While we've seen an increase in employment in recent years, many of these jobs are low-wage and cannot support even basic family expenses. Far too many families are still struggling to provide for the day-to-day needs of their children, notably for the 16 million kids who are living in poverty."

One in four US children, or about 18.7 million kids, lived in low-income households in 2013, the report found. Those households were defined as those that use more than 30 percent of pre-tax income for housing.

Though the unemployment rate has gone down from 7.5 percent in June 2013 to 5.3 percent now, Laura Speer, associate director for policy reform and advocacy at the Casey Foundation, said it's unlikely that fewer children live in low-income households.

"It's a much bigger issue that's happening relating to residential segregation, the cost of housing and other factors," Speer told USA Today.

The report found that black, Hispanic, and American-Indian children were more than twice as likely to live in poverty than white children. With only a "few exceptions" the report stated that "on nearly all of the measures" it analyzed "African-American, American Indian and Latino children continued to experience negative outcomes at rates that were higher than the national average."

Almost 40 percent of African-American children live in poverty, the report found, echoing findings released by the Pew Research Center this month. Only 14 percent of white children lived in poverty.

Unemployment for African-Americans sits at 11 percent, 2.4 percentage points higher than just before the recession in 2008.

"The national averages belie the stark reality that millions of children, particularly African Americans, Latinos, and American Indians live on the precipice of poverty. Today, as the economy recovers, we see a widening gap between the living standards of many children of color and other kids," Speer said.
Even if the situation improves in 2014, the report's authors said results will likely remain unsatisfactory.
"When the data for 2014 are available, we assume that they will show some improvement. But even if the child poverty rate is currently 20 percent or even 18 percent, these are unacceptably high levels of economic hardship, given what we know about family income."

The foundation's analysis reported that Minnesota scored highest in child well-being, followed by New Hampshire, Massachusetts, Iowa, and Vermont.

Arizona, Nevada, Louisiana, New Mexico, and Mississippi ranked the lowest. With the exception of California, the 15 lowest-ranked states were in the Southeast, Southwest, and Appalachian states.

The states with the highest economic well-being were located in the Upper Midwest and Plain States regions: North Dakota, Wyoming, Nebraska, Iowa, and Minnesota.

In an annual report released this month, the US Department of Education found a similar number of children – one in five – are living in poverty.
Poor children were found to start kindergarten with fewer "positive approaches" to learning and to struggle academically compared to more affluent children, the report indicated. "Positive approaches" means completing tasks, eagerness to learn, to work independently, adapt to change, keep belongings organized and follow classroom rules. Those skills tended to lead to stronger academic skills in kindergarten and first grade.

Children growing up in poor households are likely to lag in their brain development and thereby perform poorly in schools, even if they move in better neighborhoods, a new longitudinal study on child development revealed this week. Examining hundreds of magnetic resonance imaging (MRI) scans from a group of children growing up in poor households, researchers from the University of Wisconsin–Madison discovered that the regional gray matter volume in case study brains was up to 4 percent below the developmental norm for their ages.
You can share this story on social media: