Hacker 'Guccifer 2.0' publishes DNC campaign docs with strategies for defending Clinton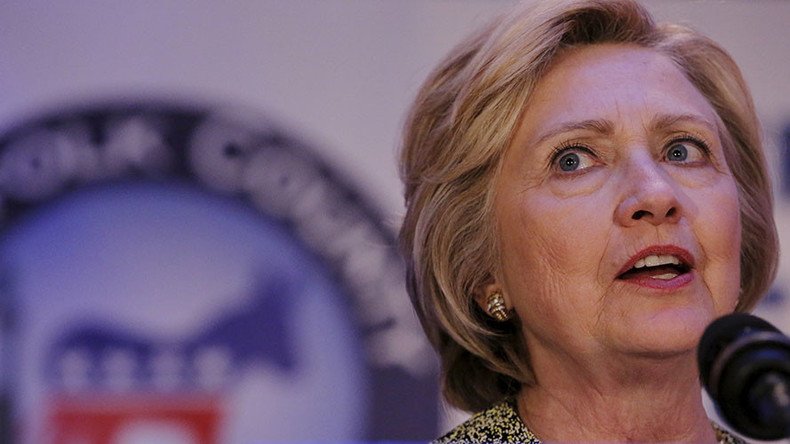 After claiming responsibility for infiltrating the Democratic National Committee's database, hacker 'Guccifer 2.0' has now published research allegedly compiled by the DNC on ways to protect presidential candidate Hillary Clinton from political attacks.
The anonymous hacker (or hackers), who goes under name Guccifer 2.0, revealed Tuesday what he called the "Dossier on Hillary Clinton from DNC" that includes "a big folder of docs devoted to Hillary Clinton that I found on the DNC server."
Last week, the hacker claimed responsibility for breaking into the Democratic National Committee's servers, lifting opposition research the DNC had gathered, including a 200-page document focused on presumptive Republican presidential candidate Donald Trump.
The hacker's moniker is an homage to 'Guccifer,' the nom de guerre of Romanian hacker Marcel Lazar who claimed a previous hack into Hillary Clinton's private email server and is now awaiting prosecution for cybercrimes.
In announcing the hack last week, Guccifer 2.0 leaked documents that detailed the DNC's strategy to use mainstream news media reporters to attack Clinton's Republican opponents, among other revelations.
On Tuesday, Guccifer 2.0 offered much more, including a roundup of past attacks levied at Clinton by 2016 Republican presidential candidates ("2016ers") such as US Senators Marco Rubio, Ted Cruz, and Rand Paul over the former secretary of state's handling of foreign policy issues such as conflicts in Libya and Syria, jihadist groups like Islamic State (also known as ISIS or ISIL) and Boko Haram, and US relations with the likes of Russia and Israel.
"The DNC collected all info about the attacks on Hillary Clinton and prepared the ways of her defense, memos, etc., including the most sensitive issues like email hacks," Guccifer 2.0 wrote in his latest release of the alleged party's documents. DNC would not comment on the release.
The 59-page "master doc" details "2016er" attacks, vulnerabilities and subsequent defenses on issues including economic inequality, LGBT rights, ties to Wall Street, women's issues, Clinton's private email server, and the Clinton Foundation, a nonprofit run by Clinton's husband Bill and their daughter Chelsea.
Assuming it is genuine, the "master doc" of attacks and defenses focuses primarily on Clinton's support for the US-led NATO airstrikes in Libya in 2011, which led to the demise of Libyan leader Muammar Gaddafi, and the September 2012 attack on US State Department facilities in Benghazi that resulted in the death of US envoy Christopher Stevens and three other Americans.
Using links to American news media, the DNC attempts to refute Republican attacks that claimed the Secretary of State from 2009 to 2013 rushed into military conflict in Libya and then abandoned the country after Gaddafi's fall, leading to the attack in Benghazi and the rise of Islamic State.
The DNC asserts that "Secretary Clinton took responsibility for the consequences of the attacks in Benghazi," and that Clinton and the State Department have complied with congressional investigations into the attacks. Those investigations were "wasteful and political," the DNC argues.
"Multiple GOP-led investigations into the Benghazi attacks have cost taxpayers millions of dollars and have sought to politicize the tragedy for their own benefit," the DNC said.
In response to Republican criticism of Clinton's 'reset' policy towards Russia, the DNC said "the Russia reset was considered by some experts and journalists to have achieved its main objectives by 2011," pointing to negotiations of a new arms reduction treaty between Moscow and Washington.
Other defense items included Clinton's political and military support for the Ukrainian government following the NATO-supported Euromaidan unrest that led to the ouster of President Viktor Yanukovich, a Russian ally.
On Syria, the DNC hails Clinton's "tough and influential voice" within the Obama administration and her support of vetting and arming "moderate Syrian rebels" to challenge President Bashar Assad's forces. In this section of the document, Clinton's defense includes her willingness to arm rebels at a pace faster than preferred by President Obama.
Clinton's defense from Republican attacks on Israel include her "long-standing personal relationships with Israeli leaders" and claims that she "is likely to have a better relationship with Israeli Prime Minister (Benjamin) Netanyahu than President Obama currently does." Clinton supported funding for Israel's Iron Dome missile defense system, the DNC added, and she "denounced Hamas and Palestinian attempts to bypass a peace process with Israel."
As for domestic issues, the DNC said Clinton's "campaign would focus on finding solutions" to income inequality as opposed to exacerbating inequality, as Republicans have claimed.
The DNC's defenses of Clinton's Wall Street ties are scant, but it does say Clinton has "signaled she would be open to raising the capital gains tax rate" and that she has "criticized Republicans for weakening financial reform" following the Great Recession that began in 2008.
The "Women" section of the document defends Clinton's record on gender equality and encouraging women to seek leadership roles. The section does not include any reference to Clinton's record on sexual and reproductive health access.
The DNC lists at length Clinton's dedication to same-sex marriage rights and LGBT rights in general, as well as her support from mainstream LGBT advocacy groups. Only in the last few years has Clinton embraced same-sex marriage rights.
Defending against accusations that the Clinton Foundation accepted donations from foreign governments, the DNC said the foundation followed "appropriate procedures for accepting foreign donations" when Clinton was secretary of state and after she announced her presidential campaign.
The positive impact of Clinton Foundation outreach around the world and the foundation's "unusually high level transparency" regarding donations should be used to defend against Republican attacks, according to the party.
When it came to charges that Clinton improperly used a private email server to do official State Department business, the DNC line of defense was that Clinton had released 30,000 work-related messages, and "insisted that she followed every rule and went 'above and beyond' disclosure requirements."
There were several other documents released by the hacker on Tuesday. One is titled the "2016 Democrats Positions Cheat Sheet 7-7-15."
The "cheat sheet" features positions on various Democratic Party issues taken over the course of their career by the 2016 presidential candidates, including Vice-President Biden and Elizabeth Warren, both of whom chose not to run.
Another document explores all the accusations against the Clinton Foundation, Clinton Global Initiative, and Clinton Health Access Initiative, together with suggestions how to counter them with examples of "positive outcomes."
Most of the lines of attack against Bill Clinton in the DNC document titled "Attacks on Clinton family members" came from Senator Rand Paul (R- Kentucky).
You can share this story on social media: