Police refuse to release Orlando 911 call causing suspicion over Mateen's motives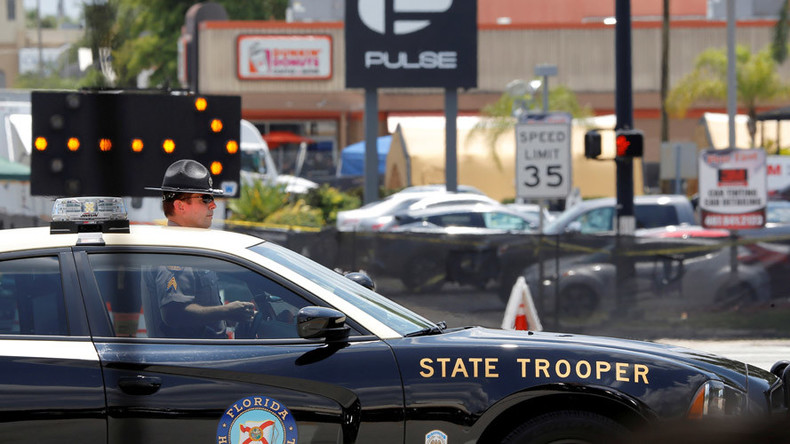 Orlando police are refusing to release the 911 call that Omar Mateen placed the night he killed 49 people at Pulse nightclub, raising questions about the details revealed in his call.
Alternet reports that the Orlando Police Department denied a Freedom of Information request made by the website's Grayzone Project, which sought a transcript or audio recording of any calls made by the mass shooter that night.
"The records being requested are exempt from disclosure at this time. Section 119.071(2)(c)1., Florida Statutes, exempts from disclosure all active criminal investigative information," read the police department's response.
READ MORE: Mass shooting at Orlando gay nightclub (Live Updates)
The statute doesn't stop police from selectively releasing information that it chooses to, which in this case is limited to information about Mateen's alleged ties to terrorist organizations.
The narrative claiming that Mateen was a member of Islamic State (IS, formerly ISIS/ISIL) has already been called into question due to his apparent confusion over the difference between various terrorist groups and details about his background, suggesting that a more complex motivation, possibly linked to his sexuality, may have been behind the attack.
Mateen had previously claimed allegiance to both Lebanese Hezbollah and Afghanistan's Al-Qaeda, both of which have fought against Islamic State, the organization he is supposedly pledged to, and each other.
According to accounts from his ex-wife Sitora Yusufiy and father Seddique Mateen, Omar was violent, abusive, and homophobic, but Yusufiy told a Brazilian TV station that he also had gay tendencies.
A number of regulars at the gay nightclub where the shooting took place have said that they had seen Mateen at the club on previous occasions, and that he used a gay dating app. His ex-wife's current fiancé, Marco Dias, alleges he was told not to mention this to the "American media" by the FBI, Alternet reports.
Mateen's ex also claims that his father once called him gay in front of her, the Daily Mail reports.
Details leaked on the 911 calls have been limited, and in some cases, conflicting.
Media outlets report differing accounts of what Mateen said on the phone, with one anonymous "senior law enforcement source" telling the Daily Beast that he had protested the US bombing of Iraq and Syria "in solidarity with the Tsarvev brothers and Moner Abu-Salha."
An eyewitness told the Washington Post that Mateen, a US citizen, said he wanted Americans to stop bombing his country, presumably his parent's birthplace, Afghanistan, where a multinational military invasion led by the US has resulted in the longest war in American history.
FBI Director James Comey described his comments as "inflammatory and contradictory."
Police described Mateen as "cool and calm," while explaining "We had a team of crisis negotiators that did talk to the suspect, just trying to get as much information as possible, and they focused on what they could do to resolve the situation."
The snippets from the 911 call that the press has been fed fit the narrative that the mass shooting was an Islamic terrorist attack on the US and its "freedom."
The resulting media coverage of this angle has overshadowed the gun control debate and assertions that the attack was a hate crime against homosexuals.
President Barack Obama pointed to Islamic State's "pervasive and easily accessible" online propaganda in a statement on Monday, saying, "It is increasingly clear, however, that the killer took in extremist information and propaganda over the Internet."
Donald Trump and Hillary Clinton have jumped on the terrorism bandwagon as well, with Trump calling for a ban on Muslims and Clinton saying, "We should keep the pressure on ramping up the air campaign" in Iraq and Syria.
Libertarian presidential candidate Gary Johnson decried the new push for tightened gun regulation, but also criticized the politicization of the massacre and his opponents' rush to name a motive.
"Regardless of what the motivation is ultimately found to be, this violence against innocent people simply going about their lives is both cowardly and infuriating. We must allow the authorities to do their jobs, understand how this attack came about, and then respond accordingly. It is not a time to either politicize or jump to conclusions." he said.
Speaking to RT, Green Party presidential candidate Jill Stein urged Americans to embrace the country's diversity in order to make it stronger.
Without the release of the 911 call, Mateen's motives may remain a mystery for some time to come.
You can share this story on social media: