Unity opportunity: Sanders and Clinton meet to harmonize 2016 goals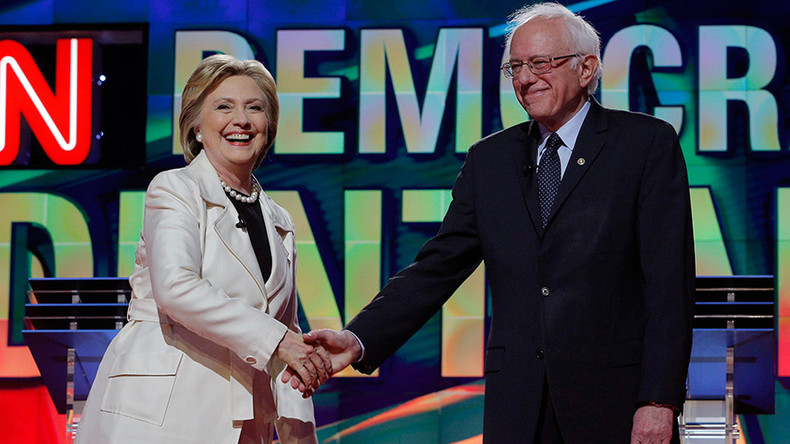 Bernie Sanders and Hillary Clinton met following the final Democratic presidential primary in Washington, DC on Tuesday night. With an upcoming national convention, the party will now strive for unity after the rough nomination contest.
The Vermont senator and the former secretary of state competed in their 57th and final primary contest in the District of Columbia on Tuesday. Clinton was declared the winner with 78 percent of the vote and 16 delegates, to 21 percent and 4 delegates for Sanders.
However, the most consequential result of the evening will not come from tallying the votes; rather, it will come from an in-person meeting between Sanders and Clinton in the nation's capital on Tuesday night.
The competition has been rough for both candidates over the last 12 months, especially recently, but after 33 victories for Clinton and 23 for Sanders, all the Democratic Party wants now is smooth sailing to its national convention in Philadelphia, which is to take place from July 25 to 28.
It is clear what Clinton wants. As the presumptive nominee for president, she needs Sanders' endorsement, along with his legions of supporters. What remains a mystery is how that will come to fruition while allowing both leaders to save face. More inscrutable, however, is what exactly Sanders wants, or at least, what he will ask for in return for his support.
Despite nine issue-oriented debates, it appears that Sanders is prioritizing inter-party reforms.
"How do we revitalize the Democratic Party?" the Vermont senator, who served in public office as a registered independent for 34 years, asked at the opening of a Tuesday press conference.
Sanders called for new leadership for the Democratic National Committee, as well as a more open primary system and ending the detached sovereignty of superdelegates – Democratic Party insiders unbeholden to primary voters.
"Sanders and Clinton agreed to continue working to develop a progressive agenda that addresses the needs of working families and the middle class and adopting a progressive platform for the Democratic National Convention," campaign spokesman Michael Briggs said, following the meeting.
The Clinton campaign called the meeting a "positive discussion," pointing out the candidates agreed on the need to stop the Republican candidate Donald Trump.
Meanwhile, on matters of income inequality, universal healthcare, free college, and other policies that ignited Bernie's "political revolution," representatives of the Sanders' campaign may be making progress behind the scenes in negotiating the party's platform ahead of the July convention.
Among the 15 members of the committee drafting the party's platform is Dr. Cornel West, an activist and surrogate for the Sanders campaign. The ever-vocal West reportedly made a scene during talks when the subject of Israel came up.
During a platform committee meeting, West had a heated exchange with Clinton surrogate Robert Wexler, a former Florida Congressman, over the party's stance toward Israel.
"A commitment to security for our precious Jewish brothers and sisters in Israel can never be predicated on an occupation of precious Palestinians," West said, according to Time.
In retort, Clinton supporter and former House representative Robert Wexler said, "I would oppose the use of the word occupation for the very reason it undermines our common objective," Time reported.
In a separate exchange, West also went head-to-head with Eric Holder, President Obama's former attorney general, demanding to know why Wall Street executives went unprosecuted for the economic downturn in 2008.
Time also reported on less-fiery interactions between the senior aides of both campaigns. Robert Mook, Clinton's campaign manager, has been the most favorable liaison for both sides and has recently talked with Jeff Weaver, Sanders' campaign manager. Additionally, the teams' debate schedulers, Charlie Baker of the Clinton camp and Mark Longabaugh of the Sanders camp, have been working out differences in anticipation of the DNC.
Among Sanders' valued assets that the Clinton team would love to get their hands on are his lists of donors, volunteers, and supporters, many of whom are newcomers to political activism.
This past Thursday, Senate Minority Leader Harry Reid (Nevada) told reporters, "Bernie's going to be very good for the party."
Following a decisive win on June 7 in the California primary, the largest of the campaign, Clinton gave a victory speech in Sanders' native Brooklyn.
"Senator Sanders, his campaign, and the vigorous debate that we've had about how to raise incomes, reduce inequality, increase upward mobility have been very good for the Democratic Party and for America," she said.
It has been reported that Clinton phoned Sanders that night, defying tradition. Usually it is the loser who calls to offer their congratulations in order to save face.