'World is a worse place today': Bittersweet LA Pride celebrations go on despite Orlando tragedy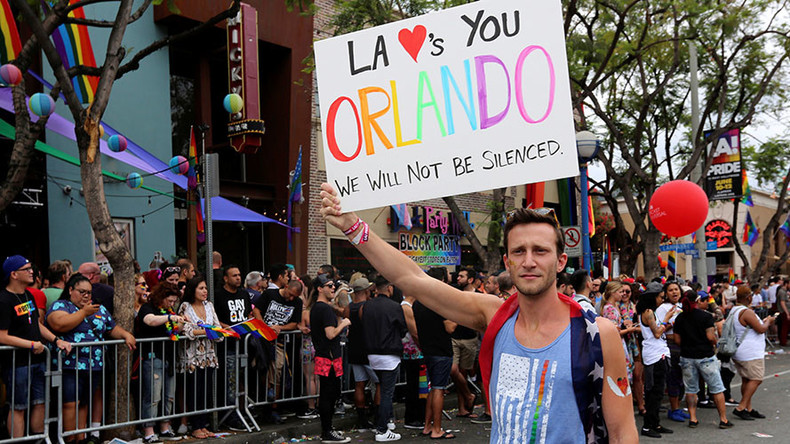 The Los Angeles Pride Parade was the first in the US in 1970 and gathered people lobbying for gay, lesbian, bisexual and transgender rights amid social and political turmoil. But almost a year after same-sex marriages became legal, the fight for equality continues.
Many Angelenos woke up this morning to a lot of news. During the early hours of Pacific Time, a man named Omar Mateen had gone on a shooting rampage at Pulse, a popular LGBT nightclub in Orlando, during Pride Week.
Follow RT's LIVE UPDATES on mass shooting at Orlando gay nightclub
Not only that, but an Indiana man named James Wesley Howell had been caught in Santa Monica with a truck full of weapons and explosives. He was going to the Pride Parade, he explained, to do harm to the LGBT community.
Despite two very strong reasons to stay at home, LA Pride continued. Almost all of its attendees had heard the news of the attack in Orlando, as well as the planned attack on the very parade they attended. However, these factors seem to have driven more people to attend.
READ MORE: Heavily armed man arrested while heading to 'harm' LA gay pride event
Attendee Franklin Vermillion told RT, "I wasn't going to come but I saw what happened this morning, I decided to come to show my support – not to hide anymore."
His neighbor, Stephanie, who is straight but supports the movement told RT she had been hesitant to come, but thought: "You know what? F**ck it. Don't let nobody scare you from having fun, from being yourself so let's go on out and have fun."
While some marched to stick a finger in the eye of homophobia and gay hate, others marched for those who couldn't. Moon of Ms LA Leather, said: "That's what got a lot of people out here, realizing how short life is."
The need to celebrate the LGBT community was commonly echoed. Austyn de Lugo, another attendee, explained: "This is our day. People think that since we've achieved the marriage battle, it is over."
READ MORE: Deadliest mass shooting in US history: 50 dead, 53 injured in Orlando gay club massacre
The massacre at Pulse and previous incident in Santa Monica were signs that the battle for gay rights is far from over, according to de Lugo. "And as someone who has been subjected to anti-gay violence before, I will never let someone make me too scared to where I change my f**king behavior," de Lugo said. "So, I'm not going to do that. I'm going to be here because the world is a worse place today without those 50 people."
A total of 49 people were killed and 53 injured after 29-year-old Mateen opened fire in Orlando's Pulse gay nightclub. Initially police announced that 50 people had been killed, apparently mistakenly counting Mateen as a victim.
The need for life and celebration without fear was also a refrain for many different attendees. Joseph, a young man who stood in a circle with his friends, told RT that he had his reservations about coming to parade, saying : "I double thought about it like, 'Should I go? Some crazy people out and they might try to do here as well because you know there's always a copycat.' But then I was just like, you can't live your life in fear – that's what they want. They want you to live your life in fear."
Jay, his friend, quietly added: "It's like they want to push people back." This was Jay's first LA Pride Parade, he sheepishly added he is "newly out."
For some of the parade's older patrons, this is another battle in a war they've been fighting. Rabbi Barbara Zacky told RT that she has been out since 1970 and remembers marching with the feminists.
The Jewish religious leader told RT that, today is "the day to be out. Just reminder people who we are and not to be afraid."
When asked how Pride Parades have changed since the early days, she smiled and said: "I haven't been to a pride march in a long time and it's fun. It's a lot better than I anticipated. Different than San Francisco with the dykes on bikes."
A few people felt that there was a significantly higher police presence that there had been in previous years. For many, that was a welcome sign.
Moon explained: "I know that our police department and our law enforcement have been out and about and it was amazing to see how many law enforcement were watching over us and I want like to thank them for putting their life on the line so that we can celebrate our diversity and love."
Others agreed, saying the police presence allowed them to celebrate in safety.
But what exactly did people fear the most at LA Pride? For some, they murmured that religion and homophobia seem to go hand in hand – but rarely were any specific religions mentioned.
"I don't blame Islam at all and I think that blaming Islam is a distraction to the homophobia we all face and I blame the individual and the fact that it's so easy to get guns in this country," de Lugo said.
Rabbi Zacky believed that the problem was that, "we just have too many guns out on the street."
Deborah Gitell of Women Against Gun Violence told RT that she hopes Florida can start reconsidering what she believes are some of the most lax gun laws in the country. "There hasn't been a good guy with a gun helping out the situation," she said.
For her, the issue is with the Second Amendment. Gilett said, "It doesn't matter to me if someone is Muslim, Catholic, Jewish or whatever religion – the fact that someone has access to that much ammunition is frightening because the only reason why someone needs to have that much ammunition is someone needs to kill hundreds of people."
After each interview concluded, the participants excused themselves to return to the festivities. While this year's LA Pride features concerts from LGBT and allied artists, the parade stayed true to its roots and did what it has done since 1970: went on.