'Horrible irony': Gay men turned away from donating blood after Orlando shooting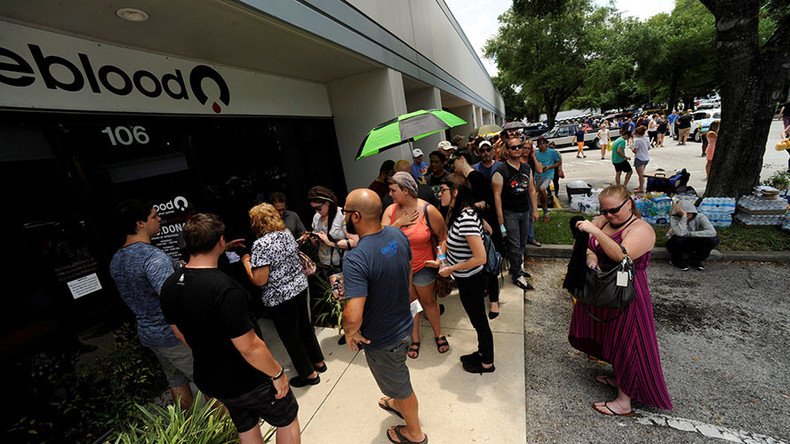 Sunday's shooting at an Orlando gay club – and subsequent calls from blood donors - has put the spotlight on restrictive US laws that ban most gay people from giving blood, with thousands of social media users expressing outrage at the 'cruel irony.'
"Urgent need for O Neg, O Pos and AB Plasma donors following a mass shooting in Orlando," OneBlood, a donor clinic located in the city, tweeted repeatedly. "Dozens of people have been injured and taken to area hospitals. The need for blood continues."
Within hours lines numbering hundreds snaked around the clinic, and by late afternoon it declared that it was at full capacity, asking donors to return within the next few days.
But that was not enough to stave off a long-brewing debate on the discrimination of homosexuals, who wish to give blood.
Men who have sex with men (MSM) were banned from donating in 1983, in the early days of the AIDS epidemic, when they were widely perceived to be one of the greatest risk groups, and no screening tests existed for contaminated blood.
But current nucleic acid amplification tests (NAT) used on donors' blood can accurately sense antibodies that develop within two weeks of someone being infected. This has reduced the risk of receiving HIV to about 1 in 2 million.
Taking this into account, late last year the FDA softened its rules.
Now, any man that has refrained from gay sex for 12 months is allowed to give blood. This stops equating MSM with intravenous drug users and sex workers – who are still banned – and puts them on a level with those who have received transfusions, had a tattoo, or had sex with someone who had definitively been tested for HIV.
In practice, this restriction is likely to cut off most sexually-active gay men, and in fact OneBlood, and other Orlando clinics said they still hadn't adopted their protocols to comply with the new FDA stance.
The 1-year deferral period puts the US on a par with the UK, which adopted a similar protocol five years ago, Japan and Australia. There is no deferral period in other countries, such as Russia, Spain, Italy and much of South America.
LIVE UPDATES: Mass shooting at Orlando gay nightclub
In turn, Germany still has a ban on MSM blood donors, and Canada asks them to wait 5 years from their last time of intercourse before contributing to a blood bank.
Aliide
You can share this story on social media: