FDA relaxes 32-year ban on blood donations from gay men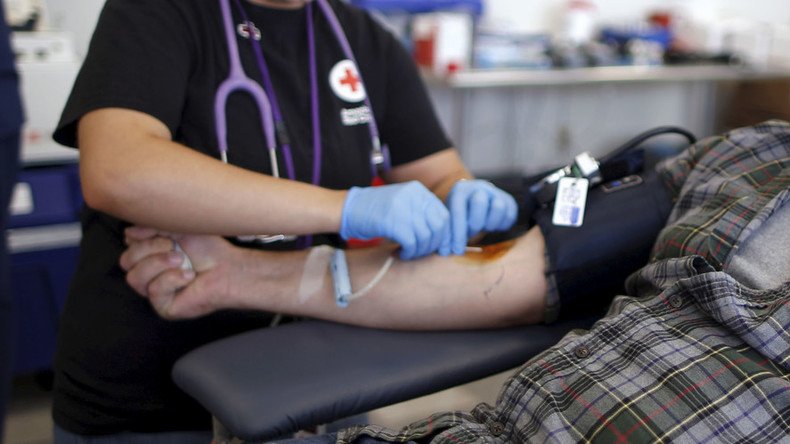 The Food and Drug Administration has relaxed its 32-year ban on blood donations from gay men. The ban was originally introduced in 1983 to protect people receiving blood transfusions from people infected with HIV.
The FDA's announcement on Monday lifting the ban comes with a caveat, however: Gay and bisexual men can only donate blood after having no sexual contact with another man for over a year.
"Relying on sound scientific evidence, we've taken great care to ensure the revised policy continues to protect our blood supply," Peter Marks, deputy director of the FDA's Center for Biologics Evaluation and Research told NPR.
The drug regulator said its decision was based on the latest science, which shows that an indefinite ban is not necessary to prevent transmission of the human immunodeficiency virus (HIV).
Gay rights advocates said the updated policy is discriminatory, "ridiculous," and that blood donors can be screened for HIV.
"It is ridiculous and counter to the public health that a married gay man in a monogamous relationship can't give blood, but a promiscuous straight man who has had hundreds of opposite sex partners in the last year can," Jared Polis, a Democratic congressman from Colorado and the co-chair of the Congressional LGBT Equality Caucus, a caucus of openly gay members of Congress, told Reuters.
Gay-rights advocates say gay or bisexual men in monogamous relationships may be a much lower risk than donors who are promiscuous.
"[The policy] perpetuates the stigma that HIV is a gay disease," Kelsey Louie, who heads the Gay Men's Health Crisis advocacy group, told NPR.
The FDA's decision brings the country in alignment with the United Kingdom, Australia and New Zealand, which also have one-year deferment periods.
The FDA said its policies have helped reduce HIV transmission rates from blood transfusions, from 1 in 2,500 to 1 in 1.47 million.
The health agency first proposed the changes in May and received some 700 public comments. About half recommended keeping the ban in place. Others think the new policy is a reasonable compromise.
"The gay community and many people view blood donation as a civil right. And I don't think it is," Dr. Kenrad Nelson, a professor of epidemiology at Johns Hopkins Bloomberg School of Public Health who advised the FDA about the policy, told NPR. Nelson said he can't donate blood for a year after he returns from countries where he might have been infected with malaria.
The FDA still prohibits donations of blood from anyone who spent more than three months in the United Kingdom between 1980 and 1996. That rule is in place to minimize the risk of spreading Mad Cow Disease, or Creutzfeldt-Jakob disease, where an infectious agent is spread by eating contaminated beef and causes a brain-eating disease. An outbreak during the eighties and early nineties led to 177 cases, three of which occurred through blood donations.
You can share this story on social media: