Muhammad Ali's ex-girlfriend selling $100k sex film of legendary boxer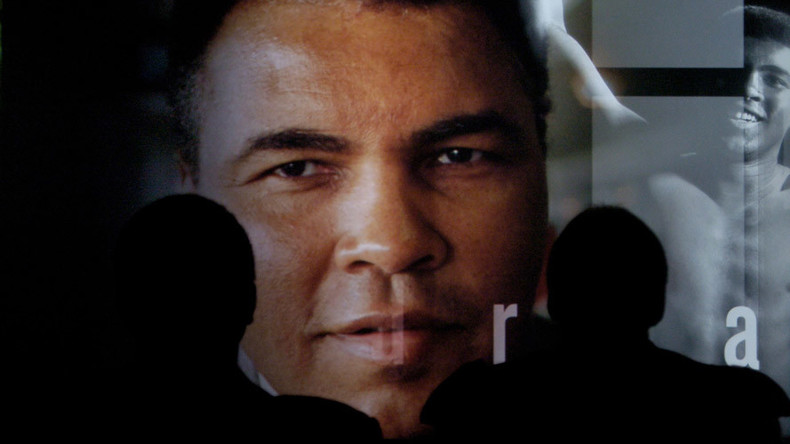 A sex film purportedly starring legendary boxer Muhammad Ali, who was laid to rest on Friday in Louisville, Kentucky, is now up for sale by a woman who claims he fathered her daughter.
Barbara Mensah wants $100,000 for what she says is old film of Ali showing women why he's "the Greatest" at so-called "gumbo parties" arranged after his fights.
"No one has anything like this. I'd like to get as much as I can for it," Mensah, 70, told the Mirror. "Muhammad couldn't keep away from a pretty girl whether he was married or not."
Mensah, originally from Louisiana and now living in Houston, claims the film, which she is trying to get digitally converted, was entrusted to her by one of Ali's closest confidants.
Days before Ali's death, she posted a picture on her Facebook allegedly taken at a "gumbo party", showing actor Leon Isaac Kennedy posing with a woman in underwear.
The "gumbo parties", named after a traditional Louisiana stew, took place after Ali's fights and were attended by "a few of his guys and then about a dozen or more girls," according to Mensah.
If the film fails to make Mensah the money she craves so badly, she also claims eight publishers are bidding on a "blockbuster" book she wrote about her life with Ali.
Mensah met Ali in 1967 when she was 17 and says she had a 20-year affair with the boxer, who was married to his second wife Belinda Boyd at the time.
"Ali always ­referred to me as his wife with great respect and not as a hidden affair," Mensah told the Mirror.
She attended Ali's notorious Thrilla in Manila fight against Joe Frazier and the Rumble in the Jungle, when he fought George Foreman in Zaire in 1974.
Her daughter Kiiursti Mensah maintains Ali is her father and even has the paternity test to prove it. If true, she would be his tenth known child.
Kiiursti, 35, claims Ali's visits with her ended when he married his widow Lonnie in 1986.
"He stopped coming to see me. As the years went by he got sicker and sicker. She stopped him having a relationship with me. It's been devastating," she told the Mirror in 2014, after a plea to visit Ali before he died.
She says she last saw her father at an autograph session when she was 15 and has since become friends with Ali's estranged son, Muhammad Ali Junior.
Kiiursti's mother Barbara also posted a photo of her attending Ali's funeral on her Facebook page.
READ MORE: Thousands pay their respects to 'The Greatest' Muhammad Ali