Tesla rebuffs charges of Model S safety issues as regulator reviews complaint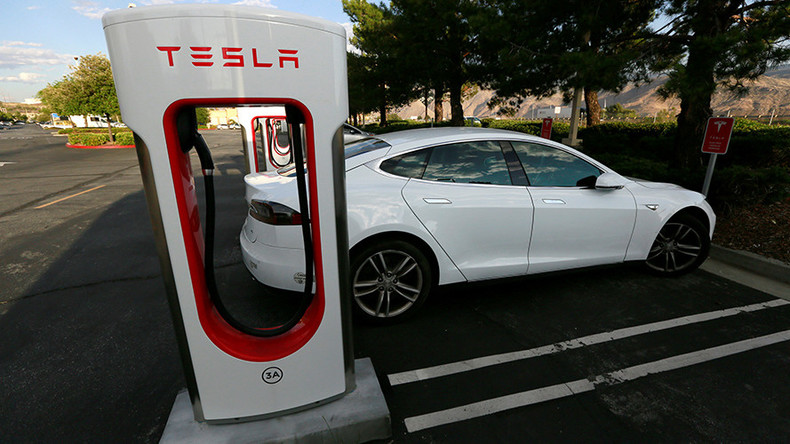 A US regulator is examining reports of defective suspensions in Tesla Motors' Model S. The company say there is no formal investigation, and has called "preposterous" the allegations that it tried to silence a complaining customer.
On Thursday, Tesla Motors Inc. challenged the claims of safety concerns over the suspension system in its Model S sedans, asserting that a review by the US National Highway Traffic Safety Administration (NHTSA) of Tesla suspension complaints does not constitute an investigation.
The company also denounced claims made on a blog that it asked a customer who had experienced Model S suspension problems to sign a "Goodwill Agreement" that barred the customer from informing federal regulators of such issues.
The NHTSA review stems from a story posted on the "Daily Kanban" in which writer Edward Niedermeyer exposed a thread on the Tesla Motors Club forum that described a customer's problem with a Model S suspension system. The customer's suspension system broke while driving down a hill. The customer, identified as "gpcordaro" in the forum thread, said he contacted Tesla about the issue. The company told him that it would not cover the issues under warranty, claiming the problems were part of regular usage, gpcordaro said.
Included in Niedermeyer's write-up was a contract Tesla sent gpcordaro, in which the company requested he sign a "Goodwill Agreement" in exchange for the company paying 50 percent of the repair costs, which totaled $3,100. A confidentiality provision was included in the contract.
"You agree to keep confidential our provision of the Goodwill, the terms of this agreement and the incidents or claims leading or related to our provision of the Goodwill," it said.
Niedermeyer wrote that gpcordaro reported the suspension issue to the NHTSA, which responded by saying that the suspension parts "were of poor quality and failed prematurely." NHTSA also said it was in touch with Tesla over the issue and was "looking for more examples to test" and that Tesla's confidentiality requirement was "troublesome."
"The agency immediately informed Tesla that any language implying that consumers should not contact the agency regarding safety concerns is unacceptable, and NHTSA expects Tesla to eliminate any such language," agency spokesman Bryan Thomas saidin a statement. "Tesla representatives told NHTSA that it was not their intention to dissuade consumers from contacting the agency."
The agency's review is not a formal investigation, though an official probe could come about at a later date. NHTSA Administrator Mark Rosekind said the agency is currently in "data collection mode" over the issue, Reuters reported.
"Part of what we have to figure out is whether or not [non disclosure agreements] might have impeded people making [complaints]," Rosekind said. "Our folks were on this right away."
Tesla, led by billionaire and Space X CEO Elon Musk, responded with a blog post, fighting claims that Model S suspension issues are systemic while denouncing Niedermeyer, saying he "fabricated this issue."
Tesla said the suspension problem experienced by gpcordaro represents"a very unusual use case."
"The car had over 70,000 miles on it and its owner lives down such a long dirt road that it required two tow trucks to retrieve the car. (One to get the car to the highway and one to get it from the highway to the service center.)," Tesla wrote. "When we got the car, it was caked in dirt."
Tesla also emphasized that the NHTSA review was not an investigation, nor even a "preliminary evaluation." The company added that it "provided all relevant information to NHTSA. NHTSA has since told us that we have cooperated fully and that no further information is needed."
The company also disputed claims that it asked a customer to avoid contacting a government regulatory agency about a defect. A "Goodwill Agreement" like the one sent to gpcordaro is used for issues that arise outside of those covered by a car's warranty, Tesla said, adding that such contracts are rare and assure the company isn't punished later in court for a "good deed."
"We will take a look at this situation and will work with NHTSA to see if we can handle it differently, but one thing is clear: this agreement never even comes close to mentioning NHTSA or the government and it has nothing to do with trying to stop someone from communicating with NHTSA or the government about our cars," the company said.
After adding that it has worked in concert with the NHTSA on a variety of safety issues involving its cars, Tesla suggested that Niedermeyer's motive was to cause damage to Tesla's reputation.
"It is probably wise to take Mr. Niedermeyer's words with at least a small grain of salt," Tesla wrote.
"We don't know if Mr. Niedermeyer's motivation is simply to set a world record for axe-grinding or whether he or his associates have something financial to gain by negatively affecting Tesla's stock price, but it is important to highlight that there are several billion dollars in short sale bets against Tesla. This means that there is a strong financial incentive to greatly amplify minor issues and to create false issues from whole cloth."
Niedermeyer responded on Twitter, contesting some of Tesla's claims about him while asserting that the NHTSA statement about the suspension issues and the contract agreement are what should be of concern. He wrote that he does not "play the market long or short or professionally advise anyone who does," adding that "if you don't see the public safety risk involved with Tesla's 'goodwill repair agreement' you don't understand the regulatory system."
The NHTSA has never formally investigated Tesla's Model S for a safety issue, Reuters reported. In November, Tesla recalled around 59,000 Model S cars in the US for a seat belt defect. No injuries have been connected to the seat belt issue.