54% of US college athletes admit to raping their partners – survey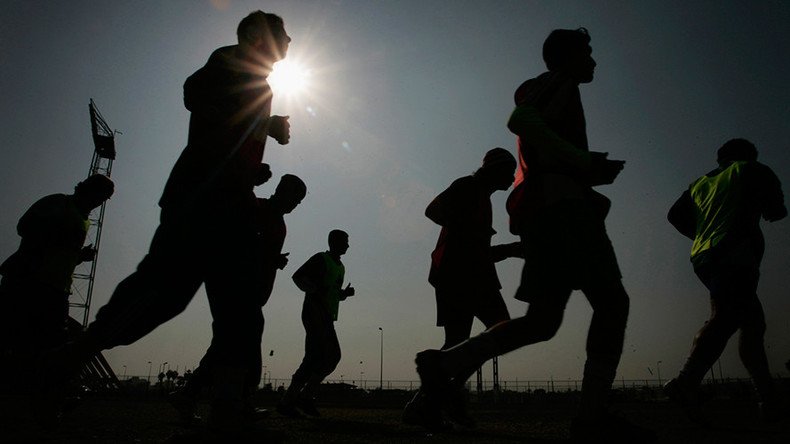 An online survey of US college students found that more than half of male sports players admitted to "sexually coercing" a woman. Sexually coercing meets the legal definition of rape, according to the researchers.
The survey report, entitled Sexual Coercion Practices Among Undergraduate Male Recreational Athletes, Intercollegiate Athletes, and Non-Athletes, followed up on research published in 1995 which showed that male college athletes were more likely to perpetrate sexual violence on women than their other male college peers.
Although there was no data available from the earlier study on whether this tendency extended to male recreational athletes, this latest survey sought to address that by assessing associations between attitudes towards women, acceptance of myths about rape, and the prevalence of sexual coercion among participants.
"We found that 54.3 percent of the intercollegiate and recreational athletes and 37.9 percent of non-athletes had engaged in sexually coercive behaviors – almost all of which met the legal definition of rape," Sarah Desmarais, a psychologist at North Carolina State University and co-author of the study, told The Independent.
Among the "sexually coercive" behaviors were making a partner have sex without the use of a condom and using physical force or threats to commit rape.
"Sexual assault on campuses – and in society more generally – is a serious problem that needs to be addressed," Desmarais told Medical Daily.
"We wanted to look at factors that might be contributing to higher rates of sexual assault among athletes so that we could identify things that prevention programs could try to address, such as attitudes about women and beliefs about rape."
A total of 379 male undergraduates under the age of 23 from a public university in the southeastern US participated in the online survey, of which 191 were non-athletes, 29 were intercollegiate athletes, and 159 were recreational athletes. The students anonymously answered a variety of questions about their history of sexually inappropriate behaviors, as well as their beliefs concerning traditional gender roles and the nature of sexual assault.
Desmarais said the true sexual assault figures may actually be even higher, as the survey relied on men to be honest about whether they had committed rape.
"As high as these numbers are, they may actually under-represent the rates of coercion, since the study relied on self-reported behavior," she said.
Desmarais and her colleagues based their survey on a 1995 report that found that as many as 19 percent of sexual violence cases reported to college judicial affairs offices involved intercollegiate athletes – a group that accounted for only 3 percent of the combined student populations at the time.
In May, Baylor University in Waco, Texas fired Art Briles, its revered head football coach of eight years, after it became apparent that he and the university had continuously ignored or minimized allegations of sexual assault committed by their football stars.
The survey also compared social attitudes and behavior towards women among athletes on sports teams to those of men who played sports recreationally. Desmarais said the respondents revealed that attitudes about women and consent were rife with misogyny.
"This study shows how important it is to change these attitudes," Desmarais said. "The 'Attitudes Toward Women Scale' used in the study was created in the 1970s, and includes some truly archaic, sexist items – and we still see these results today. That shows you how far we still have to go."
The survey report was published in the journal Violence Against Women on May 30.
You can share this story on social media: