Newly released video shows off-duty cop punching restaurant patron in face
Published time: 3 Jun, 2016 21:48
Edited time: 4 Jun, 2016 00:21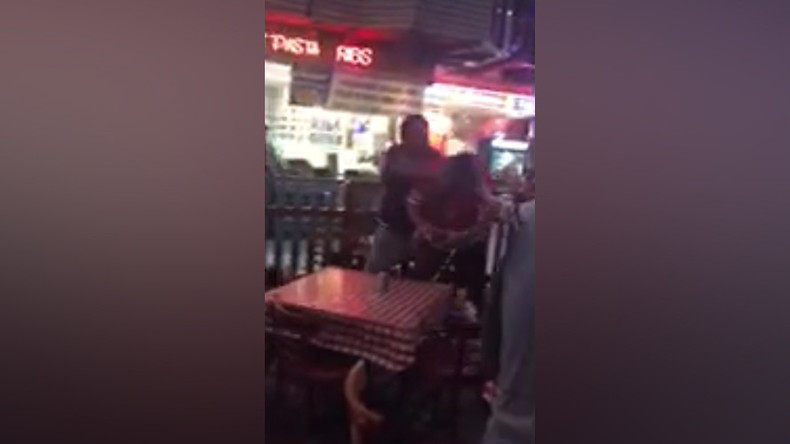 A video shows an off-duty Chicago cop repeatedly punching a man in the face at a restaurant last June in the batch released by the Independent Police Review Authority. The man who was beaten, however, was the one who ended up being charged with battery.
In June 2015, off-duty Chicago police officer Khaled W. Shaar approached a patron to tell him that he had to leave the restaurant because it was closed, according to a police report released at the same time. Shaar worked as security at the restaurant.
Several video and audio clips released Friday show that the seated patron, 60-year-old Terrence Clarke, wasn't done with his food and refused to leave. Cell phone footage shows Shaar grabbing Clarke, who then pushes the officer away from him.
"Get away from me!" Clarke can be heard shouting.
Shaar subsequently punches Clarke several times in the face, using the hand that he is holding the handcuffs with.
"Get on the ground," Shaar yelled. "Call 911."
Clarke could then be seen handcuffed and pushed against a pillar, and Shaar apparently justified his attack against the patron by saying, "You cursed at me."
The police report includes a picture of Clarke with his face swollen and badly bruised, and lists the man as the "offender" in the situation with Shaar designated as the "victim." Though Clarke was sent to the hospital and Shaar wasn't, Clarke was charged with battery against a peace officer.
The report says that Clarke said, "Do whatever the f*** you have to do, I'm not leaving," but this can't be seen or heard in any of the videos.
Also in the report is the accusation that Clarke "swung a chair at" Shaar and hit him with it, though the patron isn't seen lifting a chair at any point.
None of these alleged actions can be seen or heard in any of the eleven videos, however.
The Chicago Police Department did not immediately respond to RT America's request for comment.
Shaar is currently under investigation by the Independent Police Review Authority (IPRA), which is tasked with overseeing police misconduct cases in Chicago.
Documents and recordings related to about 100 other incidents were also released Friday by the IPRA, some of which are the subjects of lawsuits.
The releases are part of a push for transparency in the Chicago Police Department in the wake of unrest over the death of Laquan McDonald, an unarmed black teen who was fatally shot by Jason Van Dyke, a white police officer.