US adds only 38k jobs in May, weakest growth since 2010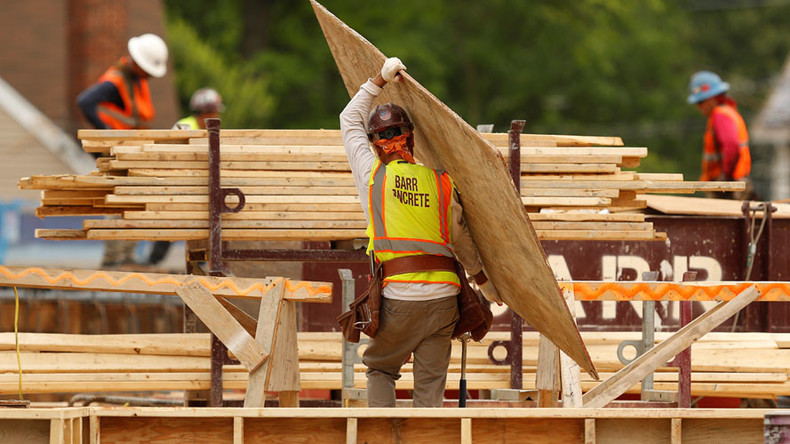 US companies hired at the slowest pace in nearly six years, adding only 38,000 new jobs in May. Actual job growth fell far short of the 160,000 new jobs predicted by economists.
The numbers were announced Friday by the Bureau of Labor Statistics as part of the agency's monthly report. May's anemic job numbers came in well below April's 123,000 jobs, a figure that was considered meager at the time.
READ MORE: Unemployment, low wages make third of young Americans live with parents
These sobering figures might seem to be contradicted by a Bureau survey of households which found that unemployment fell from 5 percent in April to 4.7 percent in May. However, this can be largely attributed to people no longer looking for a job, which excludes them from being counted as unemployed. Calculations that included this group showed the unemployment rate holding steady at 9.7 percent.
The weak job growth of May shows the continuation of a sharp downward trend. Accounting for those new numbers, monthly job gains in the past three months were only 116,000, a considerable step down from the average growth of 219,000 over the prior 12 months, The Wall Street Journal reported.
A major factor contributing to the startlingly low numbers was the strike of Verizon workers that spanned the entire survey period, resulting in 36,000 employees of the telecommunication company reporting unemployment.
Even if the striking workers were counted, the numbers still show weakness. Manufacturing lost 18,000 jobs, mining shed 10,200 jobs, and the construction industry continued a downward employment trend from last month by losing another 15,000 jobs.
The education and healthcare sectors bucked the trend by adding 67,000 jobs, however.
May's jobs report will inform the Federal Reserve's action on raising short-term interest rates when Chairwoman Janet Yellen and her colleagues meet in two weeks. Fed officials have indicated that they plan to gradually return to higher rates after several years of being close to zero.
Raising interest rates is dependent upon positive economic data, so May's weak report signals a longer wait until such action is taken.