Flint water quality improving, good enough for bathing - researchers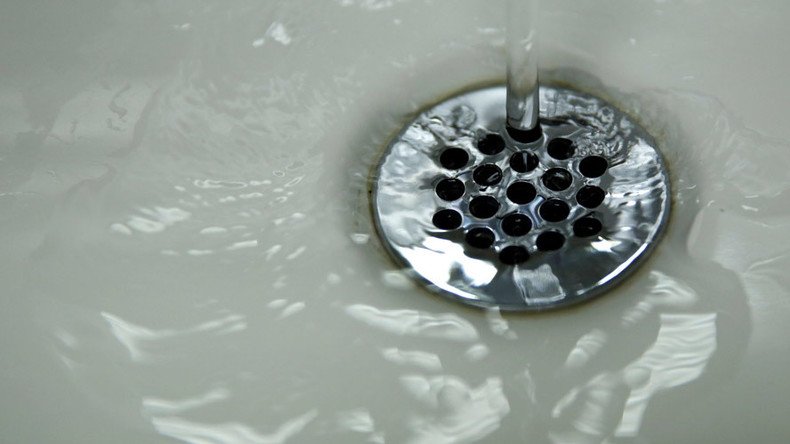 Water quality in Flint, Michigan, has improved, according to a research team that reviewed samples from homes and buildings in the city. The water is okay for bathing and hand-washing, the group, led by Virginia Tech University's Marc Edwards, said.
Edwards, who is credited with discovering the mass lead contamination in Flint's water supply, said Tuesday that sampling of water in Flint indicates the city's water meets all federal standards for levels of chloroform, disinfection byproducts such as chlorine, and total trihalomethanes (TTHMs).
During a press conference in Flint, Edwards, who was joined by researchers from Virginia Tech University, Wayne State University, and the University of Massachusetts, said the sampling included testing for lead contamination and the bacteria that causes Legionnaires' disease.
"We're seeing some very encouraging results," Edwards said at the press conference, according to the Detroit News.
The water is clean enough for bathing, showering, and handwashing, the research team said. A filter should be used for drinking Flint water or using it to prepare food, they added. It may be many more months before the city's water is clean enough for all uses. Young children and pregnant women are still advised to drink only bottled water.
"This [flushing] program appears to have helped," Edwards said, referring to an effort by city, state and federal agencies that encourages Flint residents to increase water usage in order to flush the water system of particulate lead. "We won't know for sure until we do another city-wide sampling [project]."
Legionella bacteria decreased from October to March in both large and small buildings, Virginia Tech professor Amy Pruden said, while warning that continual monitoring is crucial during summer months.
All city agencies and groups monitoring Flint water must agree on its safety before the city officially clears the water for increased usage, the Detroit News reported.
At the press conference, the research team also contested findings reported by the nonprofit Water Defense, led by actor Mark Ruffalo, that the state's water use advisory, which allows residents to bathe in Flint water, puts citizens at risk. Edwards' team criticized the group's sampling methods and the alarm it has raised about disinfectant byproducts.
"The way they gathered their data, created this concern, what I would call a false alarm, is not an approved method of sampling in water," Edwards said of Water Defense.
Edwards' team will conduct more tests in July, Michigan Radio reported.
Flint has been under a state of emergency for more than four months after toxic levels of lead were found in its drinking water supply. The city's 100,000 residents were exposed to potential lead poisoning after a decision to switch the city's drinking water supply to the contaminated Flint River. The city drew its drinking water from the river for 18 months.
The financially strapped city was under the control of a state-appointed emergency manager in April of 2014 when it switched its source of tap water from Detroit's system to the nearby Flint River in a cost-cutting move. Operators at Flint's water treatment plant failed to treat the water to make it less corrosive, causing older lead pipes to dissolve into the tap water. State health authorities ultimately confirmed that elevated blood-lead levels had been found in children.
When Detroit offered Flint the option to reconnect to its water system in January 2015, Flint refused, insisting the river water was fine to drink. Flint finally resorted back to Detroit's water system in October 2015. At least 12 Flint residents have died with ailments associated with Legionnaires' disease, which many believe is connected to the city's tainted water supply.
Three officials have been charged in relation to the poisoned water, including Michael Glasgow, the city's water quality supervisor.
Nearly 60 percent of Flint's population of 100,000 are black, with 42 percent of residents living below the poverty line, according to the US census.
Visiting Flint in early May, President Barack Obama called the crisis a "man-made disaster."
"Government officials at every level weren't attentive to potential problems the way they should have been … some very poor decisions were made," he said.
You can share this story on social media: