Sanders' Secret Service agents tackle protesters at huge Oakland rally (VIDEO)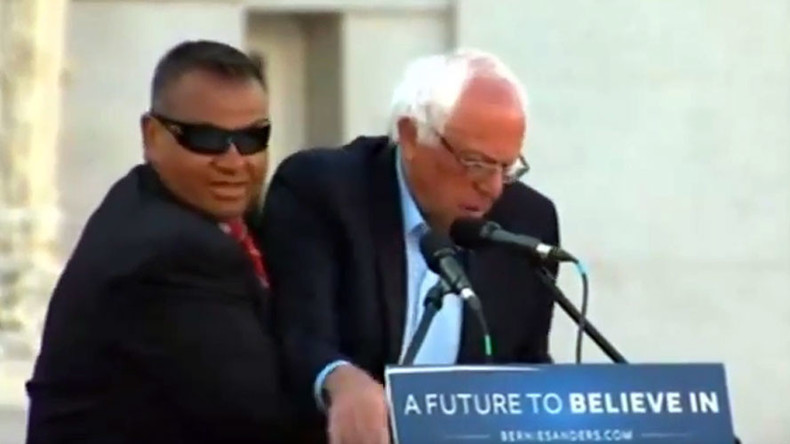 A Bernie Sanders rally in California, Monday, was interrupted when a group of animal rights activists jumped the barricade and tried to rush the stage before being tackled by Secret Service agents.
The Democratic presidential candidate was addressing a crowd of reportedly up to 60,000 people outside Oakland's City Hall at the time of the dramatic interruption.
A group claiming responsibility for the action later said it was protesting conditions for farm animals rather than protesting specifically against the candidate.
Footage of the incident shows two Secret Service agents gather around Sanders and urge him to step away from the podium as other security personnel round-up and remove the protesters. One protester was carried away by three security men.
Speaking of the disruption, Sanders said: "We don't get intimidated easily."
At least four activists were arrested, according to NBC News. The animal rights group which claimed responsibility for the protest, Direct Action Everywhere, claimed there were up to two dozen protesters among the crowd.
"Sanders claims to oppose 'factory farming,' but what he hides is that virtually all farms in the United States, including farms he supports, are essentially factory farms," said protest organizer Aidan Cook.
The activists said they were not protesting Sanders himself, but want him to support more radical action to improve conditions for animals and strengthen the legal protections for animal rights.
The protest came from an unexpected source: Sanders has a strong animal rights legislation record and was given a 100 percent rating from animal welfare organization the Humane Society Legislative Fund, which rates federal legislators' records on animal protection issues.
READ MORE: 35 arrested, anti-Trump protesters clash with police in San Diego, California
The Sanders rally saw a massive turnout with estimates ranging from a conservative 20,000 people up to 60,000, according to US Uncut.
Social media users noted the lack of mainstream media coverage of the event and criticized the media 'blackout'.
Sanders is holding a rally in Santa Cruz Tuesday evening as the candidates continue to push for support in next week's California primary.
READ MORE: California primary is tossup between Clinton and Sanders – poll
California's Democratic election is the largest in the party's primary run, with 475 pledged delegates up for grabs in the June 7 ballot.
It's an open primary, meaning that voters who aren't registered Democrats can still cast ballots. Recent polls have indicated a tight race between Sanders and Hillary Clinton to take the primary.