Katie Couric's documentary slammed for deceptively editing interview with pro-gun activists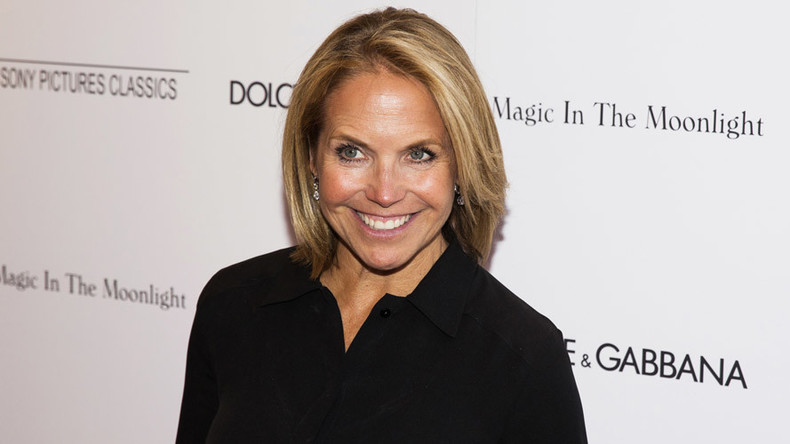 Makers of a documentary on gun violence are under fire for misleadingly editing a scene in which anchor Katie Couric interviews a gun rights group. Critics claim that the edit was an underhanded attempt to make Second Amendment activists look foolish.
In a documentary about gun violence in the United States called 'Under the Gun,' Couric interviews a round table of members of the Virginia Citizens Defense League, a gun rights organization.
READ MORE: Farewell to arms: California Senate passes increased gun control, aka 'Gunmageddon'
Couric, a Yahoo Global News anchor who has worked as a host on all Big Three television networks, can be heard asking the group of people, "If there are no background checks for gun purchasers, how do you prevent felons or terrorists from purchasing a gun?"
It appeared that the interviewees were left dumbfounded for by Couric's question, giving only blank stares for nearly 10 seconds.
However, audio recordings posted by conservative news site The Washington Free Beacon on Wednesday revealed that the respondents actually had answers within a second, and that the awkward moment was a fabrication, made up of unrelated footage from other parts of the interview session.
"One, if you're not in jail you should still have your basic rights," one man said to Couric.
"The fact is that we do have statutes at the federal and state level that do prohibit classes of people from being in possession of firearms," said another. "So what we're really asking about is a question of prior restraint. How can we prevent future crime by identifying bad guys now? The simple answer is that you can't … There are a lot of Supreme Court opinions that say that prior restraint is something the government has the authority to do."
This exchange went on for over four minutes. None of the answers were included in the documentary.
Conservative groups quickly seized on the incident as an example of a left-wing bias in journalism. However, the mainstream media outlets such as The Washington Post, The New York Times and CNN also pointed out the misleading edits.
Director Stephanie Soechtig admitted that the scene was doctored to be silent, but said that the intention was not to be misleading.
"There are a wide range of views expressed in the film," she said in a statement. "My intention was to provide a pause for the viewer to have a moment to consider this important question before presenting the facts on Americans' opinions on background checks. I never intended to make anyone look bad and I apologize if anyone felt that way."
Couric, who served as the documentary's executive producer, says she supports Soechtig's statement the statement and is "very proud of the film."
In 2015, Couric had criticized the undercover anti-Planned Parenthood videos as "heavily edited." The makers of the videos disguised themselves as employees of a biotech company in an attempt to show the purported illegal sale of fetal body parts by the organization.
While many media outlets in addition to Couric said that the anti-abortio videos were deceptively edited, the makers of the videos simultaneously uploaded hours of unedited footage alongside the version of the videos that was edited for brevity.