Minimum wage protest enters 2nd day at McDonald's global campus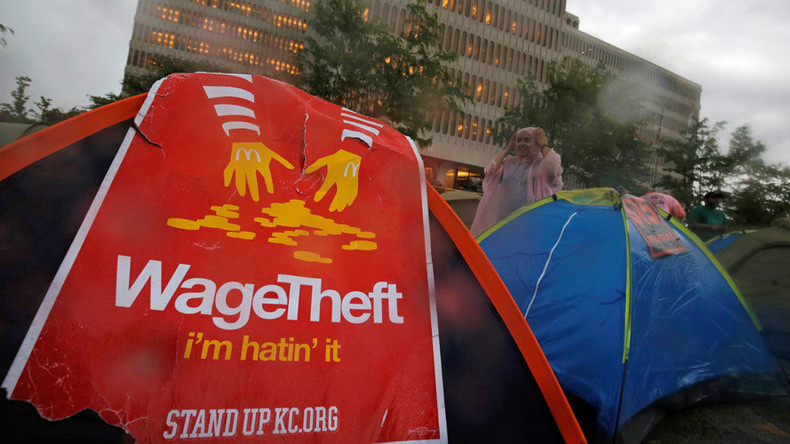 A push to increase the minimum wage to $15 has ran into a second day, with about 200 service workers camping outside McDonald's Illinois headquarters ahead of an early morning protest rally.
The protest coincided with the fast food giant's annual general meeting, also held on Thursday. Minimum wage levels differ around the US, depending on whether states opt to go above and beyond the federal base level of $7.25 per hour.
On Wednesday, supporters of the Fight For $15 campaign descended on McDonald's headquarters in the Chicago suburb of Oak Brook, demanding better pay.
One fast food worker, whose experience has been documented by the Fight For 15 campaign, has described the disparity in fortunes between McDonald's bosses and its employees.
"McDonald's sales are going through the roof, but my children have to live with their grandparents because I can't afford to keep a roof over our heads as long as my paycheck is stuck a minimum wage," said George McCray, who earns the Chicago minimum wage of $8.25 per hour.
The rally is a yearly event backed by the Service Employees International Union (SEIU). Targeting McDonald's as a figurehead of corporate America, it regularly attracts workers from all over the US.
Staff at McDonald's headquarters stayed at home as bosses chose to close the offices prior to annual meeting for the third year running.
More than 10,000 protesters were expected, but bad weather on Wednesday kept the total to around 1,500 people, the Chicago Tribune reported.
Oak Brook Police estimate that around 200 SEIU supporters camped out on the 80-acre McDonald's campus, which includes the $40 million 'Hamburger University'.
Meanwhile, approximately 1,000 people marched near Jorie Boulevard, not far from the McDonald's campus.
No arrests were made at the event.
"We appreciate that the protesters exercised their rights in a peaceful, non-violent manner," a Oak Brook Police statement read.
Around 300 officers were tasked to police the protest, which authorities say ended at 10 a.m. local time on Thursday.
McDonald's appears to have bounced back from a recent slump in profits, with the company reporting a 5.7 percent jump in US sales in the final quarter of 2015, better than the expected forecast of 2.7 percent, CNBC reported.
A McDonald's statement to WLS highlighted that franchise owners had raised wages "$1 above the local minimum wage and gave them [workers] the ability to earn paid time off."