'Fight for 15' protest occupies McDonald's HQ, sets up camp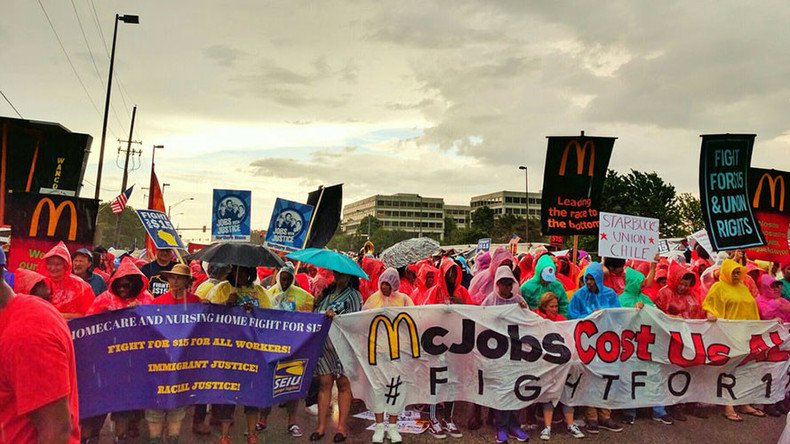 Thousands of protesters have occupied the McDonald's headquarters in suburban Chicago, vowing to keep fighting for a $15 per hour minimum wage and union rights until they win. The rally forced a shutdown ahead of a shareholders meeting.
In spite of the rain and nasty weather, activists and fast-food workers have set up camp outside the compound.
This year, organizers had promised that the protest, which includes some who are not McDonald's workers, would be the biggest and most aggressive they have held.
The protest of activists and fast-food workers is a part of the "Fight for 15" movement. Backed by the Service Employees International Union (SEIU), the campaign has been pressing hard on the multi-billion dollar empire to raise wages for its workers.
Oak Brook police called up 300 law enforcement officers from nearly 100 agencies, expecting as many as 8,000 people to show up Wednesday afternoon and about 3,000 Thursday morning.
READ MORE: 'Fight for 15' protest shuts down McDonald's HQ

For the third year in a row, the Fightfor15 movement targeted the McDonald's HQ in Oak Brook, Illinois right on the eve of the annual shareholders meeting, scheduled to run from Wednesday evening through Thursday morning.
McDonald's has encouraged its employees to work from home on Wednesday, spokeswoman Lisa McComb told Reuters.
In 2015, the corporate office of McDonald's was also forced to shut down, but no arrest was made. Last year, some 1,000 anti-low pay protesters delivered a petition with over a million signatures to McDonald's via ten workers who were permitted into the fast food giant's compound.
READ MORE: 'Fight for 15' protesters hand over 1mn-signature petition at McDonald's HQ

Although, it was not as peaceful in 2014 when police arrested nearly 140 people.
In April 2015, McDonald's CEO Steve Easterbrook announced that starting pay at the company-owned restaurants would be set at $1 above local minimum wage, beginning July 1. It was expected to reach $10 per hour by the end of 2016.
However, activists criticized the increase as insufficient, as this would only apply to around 90,000 of some 660,000 workers in McDonald's fast food restaurants around the country. Many people working in McDonald's restaurants are employed by franchise holders, rather than McDonald's directly.
You can share this story on social media: