'Fight for 15' protest shuts down McDonald's HQ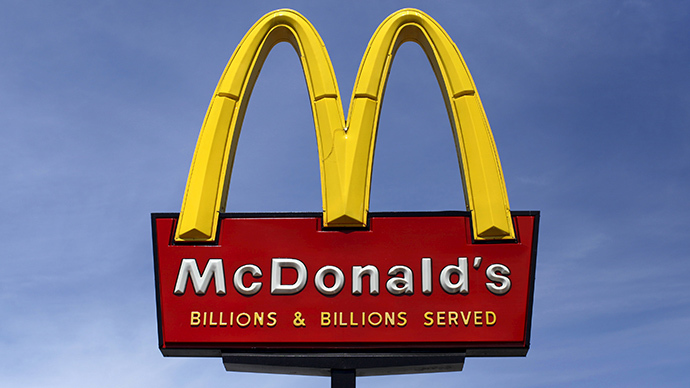 The corporate office of McDonald's in Oak Brook, Illinois was closed after thousands of workers and union activists marched on the building a day before the annual shareholder meeting. Protesters are demanding a $15 minimum wage for fast-food workers.
Wednesday's march is one of the largest protests organized by the Service Employees International Union, as part of the "Fight for 15" campaign launched in 2012.
On your left @mcdonalds closed corporate HQ. On your right, thousands of workers in the #fightfor15pic.twitter.com/Gjdy0Jtw3P

— Fight For 15 (@fightfor15) May 20, 2015
The @SEIU reports more than 2,500 people in attendance at today's #FightFor15 rally in #OakBrookpic.twitter.com/4ezI3FTR8Q

— Jessica Cilella (@jcilella) May 20, 2015
McDonald's new CEO Steve Easterbrook announced last month that starting pay at the company-owned restaurants would be set at $1 above local minimum wage, starting July 1, reaching $10 per hour by the end of 2016.
Activists have criticized the increase as insufficient.
Almost there. McDonald's HQ is closed. 3 day weekend for everyone at HQ on the #FightFor15! pic.twitter.com/CfxmSxyxmZ

— Fight For 15 (@fightfor15) May 20, 2015
Literally the scene outside @McDonalds closed down corporate HQ right now. #FightFor15pic.twitter.com/xoXEhSKZoZ

— Low Pay Is Not OK (@LowPayIsNotOK) May 20, 2015
However, those increases would apply only to some 90,000 workers at 1,500 corporate restaurants around the US. They do not affect approximately 660,000 workers employed by McDonald's 12,500 US franchises.
Oakbrook -#FightFor15 heading west on 22nd St by I-88 now. Approaching McDonalds Dr. pic.twitter.com/6mrwKs8h3W

— Jeanette Hudson (@JHudsontraffic) May 20, 2015
Even fewer workers will actually be affected by the proposed increase, as McDonald's announced plans to sell some of the corporate-owned restaurants to franchisees, in order to cut $300 million in corporate costs per year.
Big day today for the #Fightfor15 movement. We know @McDonalds hears us loud and clear! pic.twitter.com/yRfosi6Pn5

— Change To Win (@Change2Win) May 20, 2015
You can share this story on social media: