Sanders supporters and allies sue to extend California's voter registration deadline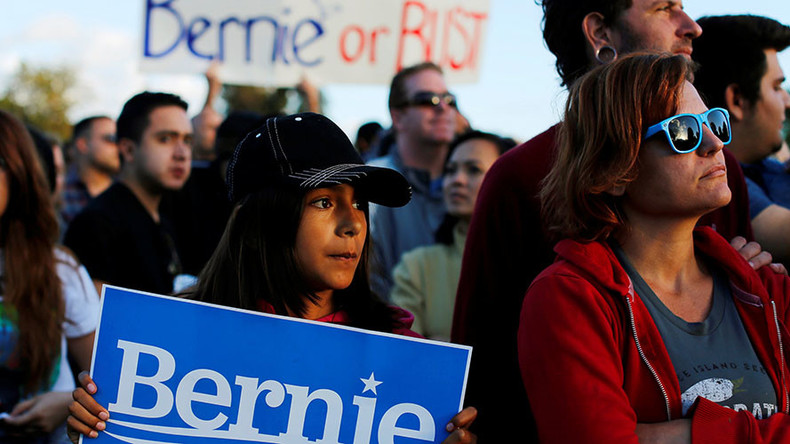 Bernie Sanders' supporters filed a federal lawsuit alleging widespread confusion over California's presidential primary voting rules, demanding voter registration be extended past Monday's deadline until the day of the state's primary election.
The lawsuit, filed in the US District Court for the Northern District of California, names Secretary of State Alex Padilla and election officials in San Francisco and Alameda County. Plaintiffs include Voting Rights Defense Project, an organization trying to boost turnout for Bernie Sanders, two Bay Area voters and the American Independent Party (AIP), a far-right group.
"Mistakes are being made," said William Simpich, an Oakland civil rights attorney who filed the lawsuit on Friday, according to The Los Angeles Times.
Plaintiffs argued that non-partisan voters have received inconsistent and confusing instructions on how to vote by mail in the June 7 presidential primary. They say thousands of voters will be disenfranchised.
"It's inconsistent," Simpich told the Sacramento Bee. "Sometimes the information is there, sometimes it's not. And sometimes the instructions are bad."
California has a semi-open presidential primary system in which the Democratic, American Independent and Libertarian parties allow non-partisan voters to participate in their primary contests. To do so, they must request a presidential ballot and if they vote by mail, election officials must receive the requests by May 31. They can also vote at their polling place or at county election offices up until June 7. Once voters mail a ballot without presidential candidates, they can no longer vote in the presidential contests.
According to the complaint, some counties did not tell voters they had the option to participate in presidential primaries, while in other cases, counties did not tell voters they could cast a ballot in person.
"There are a lot of Republicans in California who would be interested in voting for Bernie Sanders and may not know they have to take that step to re-register," Shyla Nelson, spokeswoman for a coalition of lawyers and researchers assisting the lawsuit called Electoral Justice, told the Sacramento Bee.
More than 4.1 million voters in California have registered without a party preference, rising to 23.8 percent of the electorate as of April.
Sanders led Clinton by 10 percentage points among independent California voters, but trailed Clinton 47 percent to 41 percent overall, according to a Field Poll released in early April.
"Independents trend strongly toward Bernie," said Simpich, who supports Sanders. "That's why he lost New York, the independents couldn't vote."
So far, less than 15 percent of California's non-partisan voters who registered to vote by mail have requested a June 7 presidential primary ballot, according to May 16 county registrar data analyzed by Paul Mitchell of Political Data Inc., according to the Sacramento Bee.
Simpich said a judge should require elections officials to conduct a broad public awareness campaign about the voting rules before May 31. Besides seeking an extension in deadlines to June 7, plaintiffs are asking that non-partisan voters be allowed to write in a presidential candidate.