Cash-strapped colleges still splurge on celebrity speakers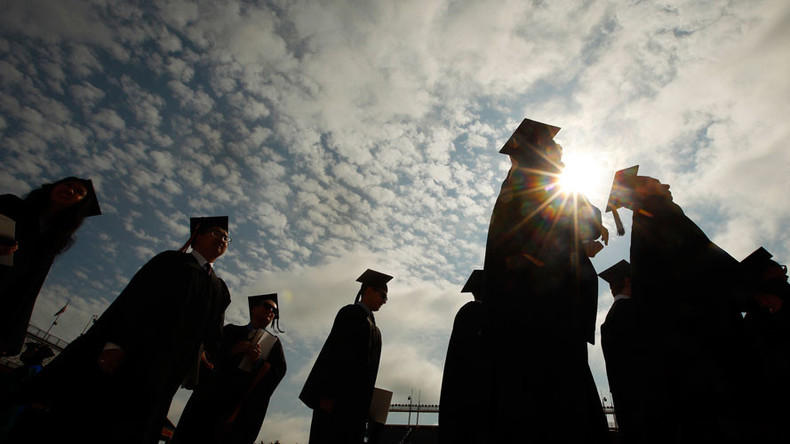 Even as many colleges are tightening the belt financially, administrators are choosing to pay sizable fees for the prestige of having a well-known figure speak at graduation ceremonies.
This graduation season universities attracted big names for big bucks, documents obtained by the Associated Press show. Rutgers University paid $35,000 to book journalist Bill Moyers, and the University of Houston paid the same amount to get astronaut Scott Kelly to speak.
Kean University invited Brandon Stanton and astronaut Mark Kelly – Scott's twin brother – to speak at its undergraduate and graduate ceremonies and paid them $40,000 each, AP reported.
Many speakers do it for free, though. For example, President Barack Obama spoke at Rutgers earlier this year. Since high-value speakers willing to offer their services for free are the exception rather than the rule, however, even institutions that run tight budgets are willing to splurge.
Hollywood actor Matthew McConaughey made headlines last spring for bringing in $135,000 for a speech at the publicly-funded University of Houston, where the average salary of an assistant professor is only $91,983, according to Glassdoor.
In 2014, the University of Nevada, Las Vegas (UNLV) sparked outcry when Hillary Clinton was paid $225,000 to give a commencement speech to new graduates, after tuition at the institution had recently increased by 17 percent.
"You could give scholarships to thousands of students, benefit research on campus, give more students grants for research and studying," Daniel Waqar, Student Relations Director for the UNLV Student Government, told Ralston Live at the time.
While it may seem like a luxury, an estimated 30 percent of colleges pay their commencement speakers, according to Inside Higher Ed. This fee is often seen as an investment to attract publicity, donors and potential students.
"Universities do see who their students want, and they assume that that's what their future students will want to see as well," Margot Sarlo, director of marketing at All American Entertainment, told Inside Higher Ed last year. "Universities are vying for customers in the form of admissions, and this can be a great way to advertise and get people on campus."
Colleges in the Illinois public university system don't seem to have such a luxury, and paid hefty fees to speakers last spring while simultaneously struggling with a budget crisis that is still unsolved. State legislators tried to pass a bill that would have prevented using public money on graduation speakers, though it never actually made it into law.
Bradley University, a private school in Peoria, Illinois, opted to forego a celebrity commencement speaker.
"I'm not going to use student tuition dollars to pay a person who's already pretty wealthy to come and pontificate," university President Gary Roberts told AP. "I can think of a lot of things to do with that kind of money that would be more valuable to our students."
A 2014 report by Bloomberg News found that in California alone, universities spent more than $7.5 million on commencement speakers over the course of two years. That same year, the University of California board approved a plan to raise tuition by 27.6 percent.